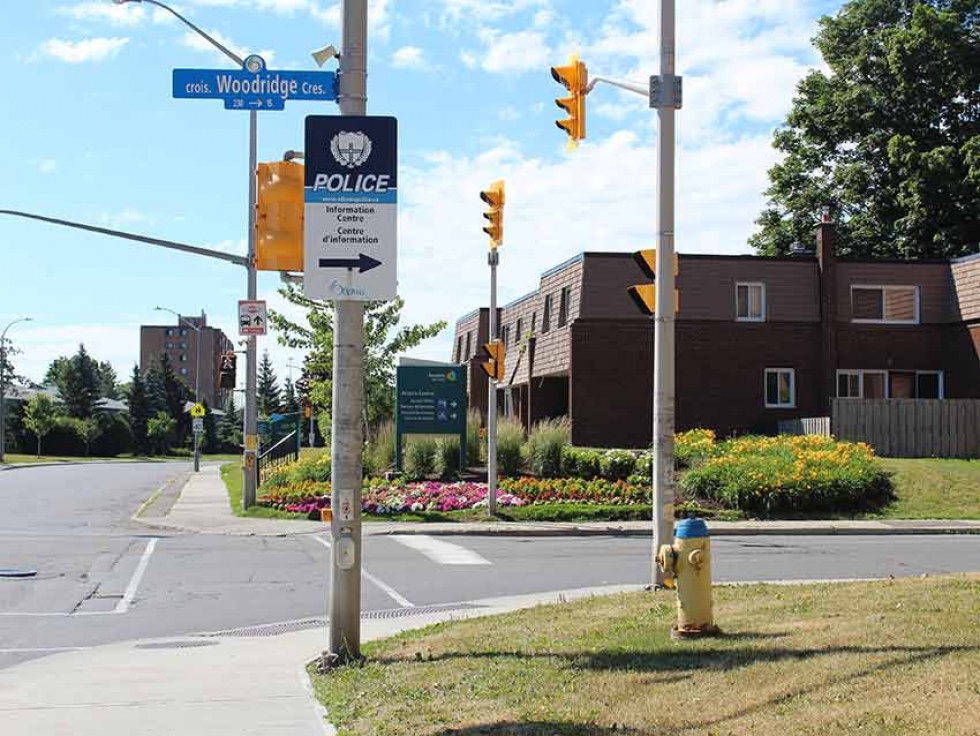 Muslim Link interviewed Arab Canadian youth activist Shahad Khalladi about her concerns with policing in Ottawa and how it impacts members of her community.
10
Jul


2018
Overpolicing Low-Income Communities: An Arab Canadian Reflects on Police and Bias in Ottawa
Written by Chelby Daigle
Black communities in Ottawa have been mobilizing around this issue, particularly in the aftermath of the death of Abdirahman Abdi.
However, we have not heard as much from Middle Eastern communities about their concerns about racial profiling.
Muslim Link interviewed Arab Canadian youth activist Shahad Khalladi about her concerns with policing in Ottawa and how it impacts members of her community.
Tell us about yourself
My family came here as refugees in 1999 and like many other families fleeing conflict we came to Canada with little financial resources and relatively no support. Non-economic migrants to Canada start out in neighborhoods either like Accora Village, where I live now, or in subsidized community housing neighbourhoods, where my family started out.
I am someone who has been involved in the community conversations about policing taking place particularly within Black communities. Arabs have been facing similar experiences with racial profiling in Ottawa however we have not engaged in conversations at the same level as Black community members.
The first time I participated in a conversation with the police was due to my position on the University of Ottawa Muslim Students Association Executive. It is important for young people to participate in frank conversations with these institutions and give honest testimonies of their lived experiences and we hope that could lead to changes in the ways that these institutions interact with us.
What was your first reaction when you learned that the Ottawa Police had added 10 more officers to the Guns and Gangs Unit (DART)?
Panic.
As we have seen with the case of Abdirahman Abdi, this unit takes a very aggressive approach that targets low-income community members. So more DART officers means more policing of men of colour, particularly young Black and Middle Eastern men. This means more negative interactions between the police and people I know and care about.
The Ottawa Police Service has been doing outreach particularly with Muslim and Middle Eastern community organizations, and is currently in the process of re-establishing an Equity Advisory Council made up of racialized community members. What are your thoughts on these efforts?
Often the police are not engaging with the people coming from our socio-economic reality.
The first time I was able to participate in a conversation with police was in my role as an MSA Executive. Often, MSA Executives are not people from my socio-economic reality. This is for a variety of reasons. Unfortunately, often MSAs don't create programming that is relevant to students who are coming from socio-economically marginalized backgrounds beyond organizing Friday prayer. For first generation students like myself, we are often struggling to financially to just stay in school, we are helping out financially at home as well, we are trying to navigate university culture, and university bureaucracy. I got involved with the MSA because I wanted to make the space more accessible and relevant for Muslims like me. So I understand why police think it is a good idea to consult with MSAs if they want to engage with Muslim youth, but police need to prioritize engaging with the youth who they are overpolicing, the youth who are having negative interactions with police. You are often not going to find people like that within an MSA Executive.
From what I have seen over the years, the same problem exists when police engage with Muslim and Arab organizations in the wider community. The police are usually engaging with more socio-economically privileged members of the Arab and Muslim community. The community members don't necessarily visit, work or engage with respective communities living in neighbourhoods like the one that I am from. They are not usually consulting with us when they are at these tables with police to get our perspectives on policing.
Frankly, some of these people look down on Muslim and Arab community members who live in overpoliced communities so they can't really help to challenge biases against our communities within the police service because they have so many biases about us of their own!
When I read examples of Muslim and racialized community members who volunteer with police saying that they think the hiring of more officers in the Guns and Gangs Unit is going to make our community safer, I wonder which community they mean? Do they mean their often SUBURBAN neighbourhoods will be safer? And who will they be safer for? I guess they just mean their own neighbourhoods and they want police to keep their neighbourhoods safe FROM people like us. Because I don't feel that hiring more officers in the Guns and Gangs Unit will make my neighbourhood any safer.
Our neighbourhoods tend to be very diverse, with high representation of Muslim, particularly Arab and Somali, community members who are facing multiple challenges. We want our communities to be safer as well but unfortunately due to racial profiling more police from units like DART just puts more members of our community at risk of violence from police officers.
I know that there is violence happening between young men in our communities. We know this because we are losing our friends, our family members. Of course we want this to stop, but there hasn't been much evidence that more police will help with that. We want to stop the violence but these are not the resources we need.
What has your engagement with police been like?
Not great.
Often times, when more privileged members of the Arab and Muslim community engage with police, it is at nice meetings with free food, when everyone is on their best behaviour, police included. Arab and Muslims consulted by the police are also often consulted by officers within the administration, not frontline officers so they don't really experience what we are experiencing.
When I and members of my community are interacting with police, it is with frontline police officers, often patrol officers and officers from DART, and things are often not so pleasant.
Just the other day, I heard a lot of yelling right outside of my window. I look out my window and see police yelling at one of my neighbours who I know doesn't speak English well. I went to my neighbour in the hopes of being able to assist with translation so that the right information is being conveyed by my neighbour to the police. I have seen situations like this escalate due to lack of communication so I wanted to prevent that.
I walked over and spoke to my neighbour first and asked if he needed help. He said yes and he was really grateful because he was struggling to explain what was going on to the two police officers.
I spoke to the police officer explaining that my neighbour wanted me to help with translation. One of the police officers was vigorously interrogating my neighbour's little brother who is under 10 years old. I started to translate.
The police officer asked me to ask my neighbour what country he comes from. I asked the police officer why that's relevant in this situation. Then the officer started speaking aggressively to me because I was asking questions, when he felt I should just be passively translating.
So I then asked my neighbour the police officer's questions which also included how long my neighbour was in Canada, which I also didn't see as a relevant question in this situation.
Then the police officer told me to translate the next statement very carefully. He stated, "The use of physical force and violent behaviour maybe ok where you come from but that's not how we do things in Canada."
Now during my whole life in Canada, I have seen many White Canadians engage in "physical force and violent behaviour", so I told the officer that I would translate his statement but that I felt his statement was clearly revealing bias against my neighbour and his family because they are refugees from the Middle East. I felt from this officer's statement he was assuming that people from our particular part of world were just inherently violent, and that somehow people in Canada aren't.
The police officer explained to me that "This isn't the first time I had to deal with a violent situation with a person from your background!".
I asked the officer for his name and badge number and he refused to give it to me. I asked on behalf my neighbour for both officers names and badge numbers and the other officer who had remained silent most of the time gave me his but the officer I had been translating for still refused.
My neighbour asked the officers what the police could do to protect them and make them feel safe as they had been threatened on multiple occasions, and the police officer who I had been translating for stated that there is nothing that could be done at this point other than the fact that he would file a report about this incident and that my neighbour could call the police if something else happens.
I am sharing this story because it just happened recently. I could share other stories of interactions with police that made me feel more like I was a threat to them than a person to be protected.
There needs to be a process through which frontline police officers like this one learns to humanize the people they are constantly policing. Participating in events with more privileged members of our communities who I have seen also have similar biases against poorer members of our communities does nothing to improve these officers' relationships with people like me or my neighbours.
It also doesn't help us feel less afraid and more willing to call police if we need help or want to report a crime when we are being treated with bias by these officers.
What can we do to move forward?
There needs to be immersion training of frontline officers with members of low-income communities in our neighbourhoods. This training needs to engage the entire neighbourhood not unappointed so-called "representatives". It should focus on quality engagement particularly with young men in our neighbourhoods.
Through real effective consultation with members of our communities, police need to develop more understanding of the needs of our communities rather than just organizing what often seems like superficial consultations being conducted so that police institutions feel they have done an adequate job in engaging overly policed communities.
In particular for DART, the issue here is the extremely negative perception of the unit by young racialized people living in lower income neighborhoods. The reality is, some members of our community do participate in criminal activity, however they are still part of our community and part of our families and we need to address the underlying reasons why they are engaging in this activity and what leads an individual to getting wrapped up in this and what are the barriers to getting out. These conversations are not happening because police institutions automatically write these individuals off as unredeemable criminals, as the "bad guys", incapable of being rehabilitated and reintegrated to create safer communities.
But police would argue that it is not their role to be social services. Their job is enforcement of the law. How would you respond to this?
I don't expect the police to offer social services. But I do expect the police to understand what is happening in our communities better and not dehumanize members of our community just because they are criminalized. That doesn't help the situation. I recommend that police take a good look at the research done by young Somali Canadian researchers in Another Day, Another Janazah about gun violence in Somali communities in Toronto. A lot of what is going on is less "gang-related" and more mental health related.
This also applies to crime within Arab communities. Many of our community members come from war-torn countries, we are dealing with intergenerational trauma and the pressures to support our families in Canada and back home. School is often a challenge, particularly for young men in our communities. So it is easy to just think that there is no legal way to make money so you get caught up in crime and become hopeless and decide to solve your problems with violence because you are not thinking clearly. Because this violence is certainly not smart if you are a just doing drug-dealing. This violence comes when you really aren't planning to have a future.
But I do agree that there needs to be more community-based programs aimed at preventing and helping people who have been criminalized rebuild their lives. The problem is that community service organizations are often creating solutions that are not designed by the members of the community accessing them, leading to ineffective use of resources and a lack of results. If you are designing a program for young men with criminal records you better be consulting with young men with criminal records BEFORE you design the program!
The Ottawa Police Services Board is holding community consultations on the OPS 2019 to 2021 Business Plan. Do you plan to attend one of these sessions?
Yes, I hope to attend the session in Accora Village on Saturday, July 14. I am glad that these sessions are taking place in spaces that are accessible to my community.
Personally, I am eager to attend to discuss the particular reality of newcomer Arabs within these communities as often we are not engaged or considered when programming and services rollout. I expect that accessibility will be considered at the consultation, just as we've seen in the particular case I referenced earlier, language is a huge barrier when it comes to accessing conversations with the police. So I am expecting the Arabic language will be accommodated as we have a large Arabic speaking community in this area.
If designed properly, this consultation should engage the people most impacted by the police. This could be an opportunity for the police to understand ways in which they need to start to SERVE our communities instead of solely overpolicing us.
Often times we come from backgrounds where police are not seen as trustworthy and so calling on them to assist in a situation is not the reaction we would have. If when we get the courage to do so and we are treated poorly, like in the story I shared, this continues to perpetuate the lack of trust by our community towards police institutions.
Arabs who grew up in Canada often understand the issues of systemic bias within policing, based on personal experiences, stories from friends and family, or reading statistics. This also feeds into the lack of trust. Obviously we need more Arabic-speaking police officers in Ottawa, a city where Arabic is the third language spoken after French! But few Arabs I know would ever consider a career in policing because of these negative experiences.
My hope is that the Ottawa Police Services Board is serious about wanting to hear from us and will really listen and commit to change. I guess we will see Saturday.
To register to attend one of the Ottawa Police Services Board consultations this week, click here
This article was produced exclusively for Muslim Link and should not be copied without prior permission from the site. For permission, please write to info@muslimlink.ca.