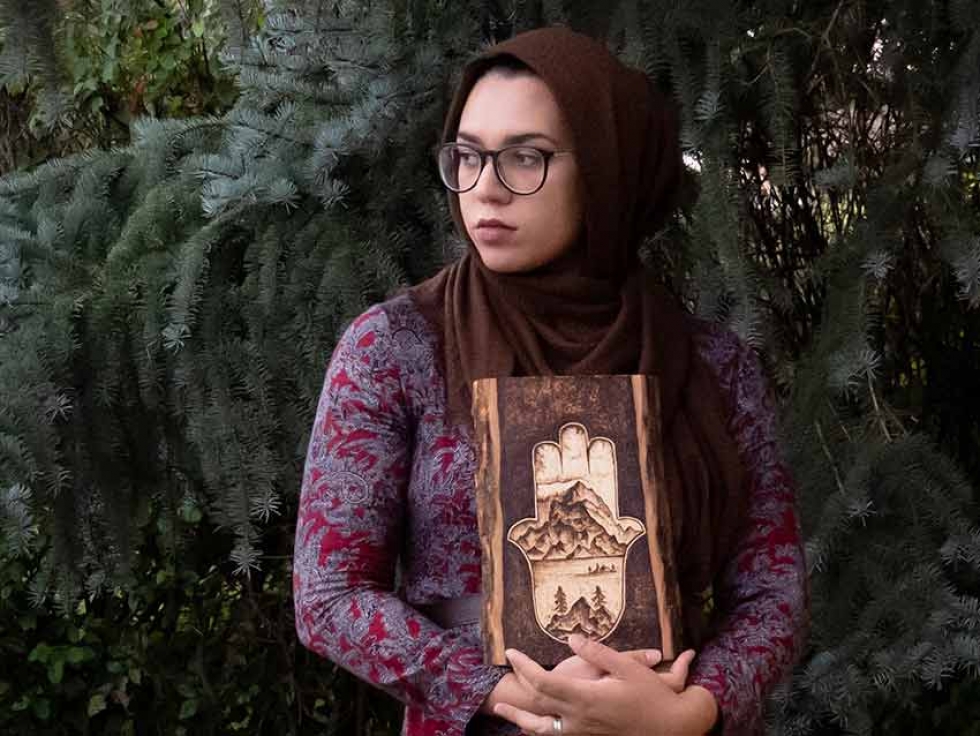 Calgary-based artist Aicha Lasfar explores the Canadian Wilderness through the artform of pyrography, the free-hand art of decorating wood using burn marks.
Aicha Lasfar
09
Apr


2020
Mooselim Works: Mixed-Heritage Canadian Muslimah Explores Her Faith and Love for the Albertan Wilderness Through Art
Written by Chelby Daigle
After moving from Gatineau, Quebec to Calgary, Alberta, Aicha Lasfar had an opportunity to explore the wonders of the Albertan Wilderness. This inspired her to explore an art form she was previously unfamiliar with, pyrography, the free-hand art of decorating wood through burning.
Muslim Link interviewed Aicha Lasfar about her artistic journey. 
Tell us about yourself and your background.
I was born and raised in rural Gatineau and lived in the Outaouais region my whole life until 2015 when I moved to Alberta with my husband and two young boys. I am of Moroccan and Quebecois descent (Moroccan Father and French Canadian Mother) and my mixed heritage has been an inspiration behind a lot of creative projects throughout my life.
When did you first get interested in art?
I was always up to something as a kid. If I wasn't doodling in my notebooks during class, I was drawing and painting at home during my free time , or building stuff out of cardboard in my backyard for fun. Art has always been part of my life in some shape or form and it's always been important for me to express myself.
What attracted you to pyrography (wood burning) as an artform?
I got into wood burning (pyrography) at a time in my life where things were at a bit of a standstill. Our family had just moved across the country from Ottawa to Calgary, and I felt isolated in a new place where I didn't know anyone or how to get around. I chose to stay at home with my kids and I embraced that role, but I also needed an outlet.
What attracted me to working with wood was the idea of using a medium straight from nature, especially since that's the theme uniting most of my artwork. I've always had a strong bond to the outdoors and wood has such a raw and real feeling that paper or canvas doesn't compare to.
How would you say that you taught yourself and how did your personal style evolve over time?
It was all about putting in the time. I fell in love with the slow, meditative aspect of burning into the wood, and I looked forward to evenings, after the kids were in bed, to get lost in my practice. Using different tools and even incorporating carving into my work helped develop my style.
I would say that reflecting on nature and spirituality helped my style evolve too, as I kept trying to come up with different ways to merge my faith with the landscape.
Share with us how you draw inspiration from the Canadian landscape, particularly the landscape of Alberta.
On my first outing to Banff and the Rocky Mountains, I was floored by what I understood to be God's raw power demonstrated in the towering mountains and beautiful landscapes. It was a deeply spiritual experience for me and I had never felt more Muslim and Canadian all at once.
My identities as a Canadian and as a Muslim of mixed heritage are often placed at odds with each other. It seems to me that mainstream media thrives on the idea of a clash of civilizations, which has frankly been emotionally exhausting for me over the years. No one likes to be told that two aspects of themselves can't possibly coexist in harmony. I was happy to have finally found a way to express that there is no clash; that my Islamic faith and my love for Canada can create something beautiful.
I feel blessed to have climbed mountains, seen amazing animals like grizzly bears in the wild and wade into glacier waters. All of these experiences are infused into my artwork, alongside my love for the Divine.
How have you managed to juggle your pursuit of art and being a mother?
For me, there is no juggling involved in being a creative person and being present for my kids. In fact, it has probably been beneficial for them to see that their mother has interests and goals of her own. I hope it also sets an example for them to make time for creativity and growing as a person outside of work and school.
The challenge lies in running a business and a household at the same time! Once I started to profit from my art, that's when my day to day operations started to change.
I needed to start thinking about things like expenses, branding and marketing.
Sometimes there are deadlines, like making sure certain art pieces are completed on time for clients, as well as packaging items nicely and shipping them in a timely manner. Still, having my private life run smoothly will always take precedence. It's about finding balance, and that's something I work towards in all aspects of life.
What advice would you give to other mothers of young children who are also artists?
Children grow up incredibly fast and it's important not miss out on their childhood by getting caught up in our own personal affairs. I'd say that advice applies to all parents, no matter their background or career path. Take advantage of when the kids are asleep to spend time doing what you love, and that's also advice that works across the board!
Most of all, I think what helped a lot was having a designated space in my home for my craft that is off limits to the kids. It feels amazing to sit at my desk with things organized the way like and being able to let go and get lost in my world.
Is there anything else you would like to add?
Yes! It's always better to give than to take, it's always better to be a creator than a consumer. Get away from malls, get lost in the woods and learn a new skill you've always wanted to be good at. No one is born into an art or trade, it's just about finding something you enjoy doing and being consistent with it. Have fun!
Follow Aicha Lasfar's Mooselim Works on Instagram
Visit Aicha Lasfar's Etsy Store online here
This article was produced exclusively for Muslim Link and should not be copied without prior permission from the site. For permission, please write to info@muslimlink.ca.