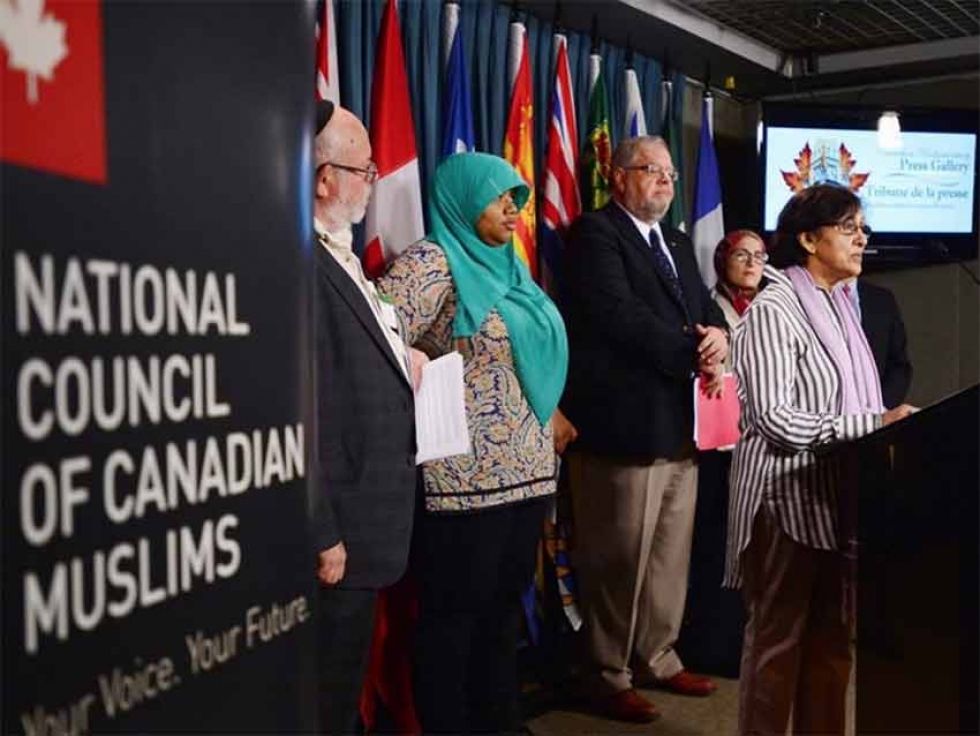 In 2017, I spoke about anti-Black hate crimes at a parliamentary press conference organized by the National Council of Canadian Muslims (NCCM).
The Canadian Press
15
May


2019
Why After Being the Target of a Possible Hate Crime I Was Reluctant to Report It to the Ottawa Police
Written by Chelby Daigle
This is not news to me as I worked with the police for over seven years and getting stats about reported hate incidents from the Security and Intelligence Unit which the tracking of reported hate incidents falls under, was always difficult, which is just one of the many reasons why I almost didn't make a report to police when I was the target of a possible hate crime back in February of this year.
Let me tell you all about it!
In early February, I was bashed by a Black pickup truck while crossing the street near my neighbourhood in Ottawa's West End. The driver and passenger stared me down and gave me the finger and then patiently waited for their light to change so they could go on their merry way. To this day, I experience pain when moving my wrist due to the impact of the truck on my arm.
When I came home, I posted about the incident on social media, which has been my main outlet of communication with the outside world because of my severe generalized anxiety disorder which has caused me to have to go on the Ontario Disability Support Program (ODSP). I often do not feel safe enough to leave my house on my own. Needless to say, when you suffer from a clinical anxiety disorder, being deliberately hit by a pick up truck during one of your rare outings is kind of traumatic.
In response to my post about the incident, I ended up getting bombarded with orders to "Report to Police".
Each time one of these comments would appear, I would say to myself "Absolutely Not." 
I should probably explain.
I used to work for the Ottawa Police Service's Diversity and Race Relations Section as the administrator of the now disbanded Community Police Action Committee (COMPAC) for over seven years. I resigned in the fall of 2017 because what I had to face in my work environment was seriously negatively impacting my already compromised mental health and my ability to fulfill work obligations. The last meeting of COMPAC I attended ended with me in tears as I just couldn't handle listening to one ignorant comment after another from both police and "community leaders" alike about my neighbourhood, which had recently been literally shot up in a street crime related incident that went down just outside my front door! I was burnt out.
But during my years working with the Diversity and Race Relations section I learned a lot about policing, including how reports of possible hate crimes were handled. I had seen that for possible hate incidents that did not involve the damage of property, it often required the intervention of a "community leader" or "community organization" respected by the police for these non-property-related incidents to be addressed. And then often it would be members of the Diversity and Race Relations Section, not the officer tasked with the hate incident, who would be most likely to do that actual follow up.
In the face of this, it seemed that support from my friends and social network, Advil, and an ice pack to bring down the swelling would go much further in helping me recover from being bashed by a truck then reaching out to my former employer and having to navigate the politics of both the police and whatever police approved Muslim "community leaders" I would have to seek out to be my advocates to get something done.
But then, something disturbing happened.
I started to get comments and direct messages from Muslim women who like me wore hijab and who also like me lived in Ottawa's West End in less expensive rental and Ottawa Community Housing neighbourhoods. They were sharing with me that they also had similar encounters of being intimidated, chased, run off the road, or hit by a Black pick up truck over the last year or so. The majority of them also had never considered reporting to police. They, like me, were not Muslim "community leaders" or connected to Muslim "community organizations" who could advocate for them. But we were all worried now. Could this be a pattern? Could there really be an Islamophobe driving around the West End of Ottawa looking for hijabis to run over? This was no longer just about me and my reluctance to engage with police and Muslim "community leadership". Something very sinister could be going on.
Then Sidrah Ahmed, a Toronto-based leading researcher on the issue of Islamophobia targeting women in Canada, tweeted about what had happened to me and its connection to a trend of vehicle-based Islamophobic hate crimes. Now, I was getting messages from Muslim women, also from similar neighbourhoods like mine, but now from other Canadian cities!!!
Sidrah's Tweet got plenty of shares, drawing the attention of the National Council of Canadian Muslims (NCCM). I subsequently received an email from an NCCM staffer expressing concern about what happened to me and inviting me to join their Women's Committee with representatives from the Canadian Council of Muslim Women and the Federation of Muslim Women, both Muslim women's organizations based in the Greater Toronto Area. I replied that instead I would be interested in getting help from NCCM to organize a forum to bring Muslim women in Ottawa together to discuss our experiences with hate incidents and figure out if there are any patterns and how we could raise our concerns to the Ottawa Police Service and other institutions.
I still have never received a reply to this proposal or even an acknowledgment that my email was received. I also asked an NCCM board member the same thing, who also never got back to me.
I understand, everyone has much more important things to do.
Here is a harsh reality. Muslim women like me, Muslim women who live on social assistance, who are working poor, who live in social housing or in less-expensive rental housing aka "bad neighbourhoods", have never really seen ourselves as mattering much to either local police OR Muslim advocacy organizations like the National Council of Canadian Muslims (NCCM) or most other organizations working on discrimination and "anti-hate" issues in this city.
We are not property owners paying municipal taxes, we are not major donors, so what could we ever really matter?
I know that is not how all police on the ground see me and people like me, but I know for a fact that this is exactly how many do see us.
I know that this is not how all donors, staff or board members at NCCM or other Muslim community groups as well as other organizations working on issues of hate and discrimination see me and people like me, but I know for a fact that this is exactly how many do see us.
For those who do think we matter, we will often never be able to be more than an afterthought, something to try to fit in after the IMPORTANT WORK, the work your bosses demand you get finished, is done.
We will never be a priority....we don't pay the bills.
But it's one thing to not be important, it is quite another to be undermined and silenced and unfortunately both are  also happening to us from our "community leaders".
Community activist Wati Rahmat, writing from Edmonton after Islamophobic incidents targeting mosques involving groups like the Sons of Odin, wrote a reflection about how efforts to support Muslim women were rebuffed by local Muslim leadership, "The mosque representative who had turned down the offer for accompaniment and rides by our allies had said that 'Our sisters are safe as they come in cars with their families' – a clear disregard for those in our community who take public transit, have mobility issues, and/or who are single. Why are our fears and vulnerabilities swept under the rug?" 
The reality is that, for all of the focus on issues of Islamophobia and "hate", again and again the issue of how our experiences of these types of discrimination are impacted by our socio-economic class is completely ignored but also sometimes even denied or silenced by our designated "community leaders".
Let's face it, if you are a middle to upper middle class member of the Muslim community, you probably look down on people like me as much as the next person....even if you grew up in neighbourhoods like mine...but now you are engineers, and doctors, and lawyers, and civil servants, and social workers, and political staffers, you made it out to where the "important" people live, the people who matter. So making the connection between marginalization based on religion or race is fine, but you want to avoid talking about marginalization based on class...that's what you are running away from.
Besides, Muslims living in poverty are not good for the Muslim Canadian "Brand". 
In a 2017 survey by the Ontario Human Rights Commission, "one in five Ontarians [20%] have negative feelings against those on social assistance, surpassing their unfavourable views against all other groups, except Muslims, who were disliked by 21 per cent of the respondents." But what if you are Muslim AND on social assistance? What if you are Muslim AND live in social housing or less expensive rental housing aka "a bad neighbourhood"? That means you might be disliked by BOTH Muslim and non-Muslim Ontarians. Well, doesn't that totally suck.
As we have seen with the controversy over treatment of the residents of Herongate, an Ottawa neighbourhood which included a majority of Muslim residents who are working poor, your perceived social class will always matter in terms of what people think they can get away with doing to you.
Therefore, it is NOT a coincidence that Muslim women wearing hijab who live in social housing or less expensive rental housing in Ottawa and other Canadian cities are possibly being targeted by Islamphobes armed with pick up trucks. If I wanted to get away with attacking Muslim women, who should I target: Muslim women who don't matter to either the police or Muslim "leadership", of course. They won't even report what happens to them.
And that's true. Most of us never do. I almost didn't.
So, what is my take away from all this, other than fear and hopelessness?
Take it from someone who copes with all sorts of fear and hopelessness on a daily basis; people like me may not matter to you, but hope really ends if we don't matter to ourselves.
So I and another one of the Muslim women who was targeted by this pick up truck and felt safe engaging with police..most did not...did report the incident on the Ottawa Police Service's online reporting system at the beginning of March of this year. We didn't expect to hear anything back from the Ottawa Police Service and so far we haven't. But we did report, because we do matter...to ourselves.
I have no interest in working on anyone's "anti-hate" agenda if the reality of the impact that socio-economic class has on our experiences of these types of hate crimes and the lack of support we receive from institutions-be they police or anti-hate advocacy groups-when we are targets of hate is not put FRONT AND CENTRE and addressed as a PRIORITY.
Would a dedicated Hate Crimes Unit help with this? Probably, but not much if the intersection of hate and classism is not prioritized in terms of the type of outreach and supports offered to individual community members.
Will the federal funding the United Way Ottawa has to address hate in the city help? Probably, but not much if the intersection of hate and classism is not prioritized in terms of the type of outreach and supports offered to individual community members.
Instead of putting my confidence in institutions I have no real say in and that feel they have no accountability to me because I don't pay their bills, I'm trying to focus on what I have the power to do on my own to protect myself.
If anyone reading this wants to help me do for myself and prioritize exploring the intersection of classism, racism, gender, and Islamophobia by organizing a forum for Muslim women living in social housing and less expensive rental housing in Ottawa to come together to figure out if we are being targeted by an Islamphobe armed with a pick up truck and who knows who else and what we can do to support one another, heal, and move forward in strength, on our own terms, send me an email at This email address is being protected from spambots. You need JavaScript enabled to view it..
Also, this Ramadan, consider supporting others who are also doing for themselves:
Consider supporting the Herongate Tenants Coalition's Legal Defense Fund, you can contribute online here.
Consider supporting the Rivers of Hope Collective's Anti-Islamophobia Workshops, you can contribute on LaunchGood.com online here.
This article was produced exclusively for Muslim Link and should not be copied without prior permission from the site. For permission, please write to info@muslimlink.ca.