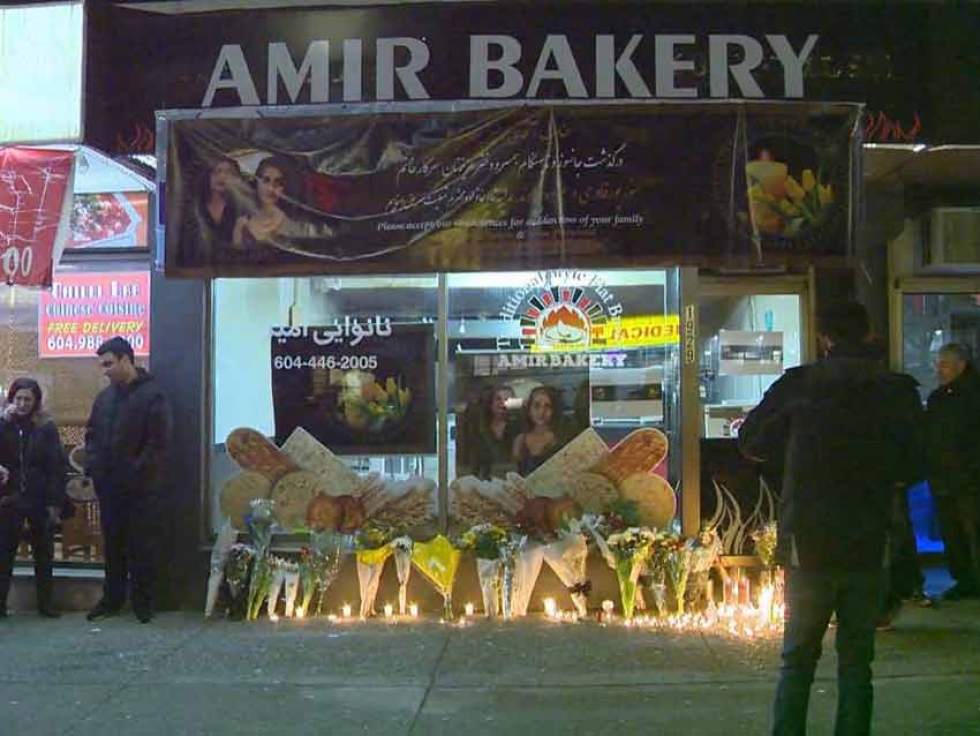 Amir Pasavand, owner of Amir Bakery, lost both his wife and daughter in the Ukrainian airplane crash in Iran this week.
Global News
09
Jan


2020
Vigils Being Held Today in Toronto, Ottawa and Halifax for Victims of the Ukrainian Plane Crash in Iran
Written by Making Headlines
Vigils and memorial services are being held today in Toronto, Ottawa and Halifax to mourn the loss of Iranians and Canadians killed in the crash of an Ukrainian airplane in Iran earlier this week.
According to statements made by Prime Minister Justin Trudeau in a press conference earlier this week, many of the people on the airplane were making connections to Canada so along with the 63 Canadian citizens who died, many of whom were of Iranian descent, where were also many more who had ties to Canada, particularly Iranian university students studying at Canadian universities, making it a total of 138 people who were making flight connections to Canada who died. This makes it the largest Canadian death toll in an airplane crash since the 1985 Air India bombing, in which 280 citizens or permanent residents died.
One of the cities with a large number of losses was Edmonton, which held a vigil earlier this Wednesday at the Alberta Legislature, despite freezing temperatures, to mourn the losses of several Edmonton community members, the names of at least 13 have been officially confirmed. According to James Keller writing in the Edmonton Journal about the victims, "Details about the victims painted portraits of talent and academic achievement. Canada has a reputation for welcoming Iranian immigrants and students without the hurdles and sanctions they might face in the United States. Those killed include a leading expert in wireless technology, and a researcher in artificial intelligence. Engineers and teachers. Dentists and doctors. A high-school student. A young family. Newlyweds."
In Vancouver, home to the largest concentration of Iranians in Canada, more than 100 gathered for an unplanned vigil at Amir Bakery both to mourn all those lost but also to express condolences to the owner of Amir Bakery, Amir Pasavand, who lost both his wife Ayeshe Pourghaderi, and his daughter, Fatemah Pasavand, in the plane crash. 
Many of those who died were faculty, current students, or alumni of Canadian universities. Many universities put their flags at half mast to mourn their losses and some, such as the University of Manitoba, held special memorial services.
The President of the University of Alberta, David H. Turpin, in response to the tragedy, stated "This is a devastating loss for the University of Alberta. Ours is a closely interconnected community, and we grieve with everyone touched by this terrible loss— friends, classmates, roommates, professors, students, mentors, and colleagues. The University of Alberta's flags will be lowered to half-mast in recognition of this tragedy."
In Toronto, the University of Toronto released the list of its students whose names were on the flight manifest for Ukraine International Airlines Flight PS752. A statement issued by the University of Toronto stated, ""On behalf of the entire University of Toronto community, I want to say how deeply saddened we are, and how concerned we are for the families and friends of those who lost their lives. We are continuing to gather information, and taking care to respect the privacy and wishes of all involved....Flags at U of T's three campuses will be flown at half-mast as the university unites in mourning the victims and offers sympathy and condolences to their families and friends."
Other Ontario universities such Western University, Carleton University and the University of Ottawa, York University, University of Waterloo, and the University of Guelph have also issued statements mourning the loss of their students.
University of British Columbia, Langara College, and the University of Victoria also issued statements confirming that current students and alumni are among the dead.
In Montreal, Concordia University and Ecole de Technologie Superieure both confirmed that students, alumni or faculty were among the dead.
In Halifax, Dalhousie University and Saint Mary's University have confirmed that they both have students among the dead.
To learn more about the lives of the Canadians and Iranians who died in Flight PS752, you can read from the list of articles collected below.
For information about the vigils taking place today, Thursday, January 9th and on other upcoming dates also see below:
Toronto (North York)
January 9: Vigil at Mel Lastman Square organized by Salman Sima starts at 6:00 pm, click here for details.
January 9: Vigil at North York Civic Centre organized by the Iranian Canadian Congress starts at 6:30 pm, click here for details.
Ottawa
January 9: Vigil at Parliament Hill organized by Kaveh Shakouri starts at 6:00 pm, click here for details.
Halifax
January 9: Memorial Service organized by the Al Rasoul Islamic Society starts at 5:00 pm, click here for details.
January 11: Memorial Service organized by the Iranian Cultural Society of Nova Scotia, click here for details.
If you have information for any other upcoming vigils and/or memorial services, please email This email address is being protected from spambots. You need JavaScript enabled to view it.
Coverage in Canadian Media:
Iran plane crash leaves families, communities across Canada grappling with 'heartbreaking' losses (Globe and Mail)
Edmonton:
At least 30 Edmontonians dead in Iran plane crash that killed 176 (Edmonton Journal)
Vigil at Alberta Legislature mourns tragedy of Flight PS752 (CBC)
Vancouver
13 people with ties to B.C., including family of 3, among those killed in Iran plane crash (CBC)
Scores gather to remember victims of Iran plane crash at North Vancouver bakery vigil (Global News)
Winnipeg
Remembering the people from Manitoba on board Flight PS752 (CBC)
'Beyond words': U of Manitoba community mourns friends, colleagues lost in Tehran plane crash (CBC)
Ottawa
Eight Ottawa residents killed in Ukrainian plane crash in Iran (CTV News)
Tech entrepreneur, newlywed among Ottawa victims of Iran plane crash (CBC News)
Toronto
What we know about the Canadians killed in the Ukrainian plane crash (City News)
Here's what's known about some of the Toronto victims of the Iran plane crash (blogTO)
U of T community mourns Iran plane crash victims (University of Toronto)
Halifax
Halifax dentist, university students among victims of Iran plane crash (CBC)
Prime Minister Trudeau speaks to media about the fatal plane crash in Iran (January 8, 2020)
(It may take a few moments for the video to load from YouTube)
This article was produced exclusively for Muslim Link and should not be copied without prior permission from the site. For permission, please write to info@muslimlink.ca.