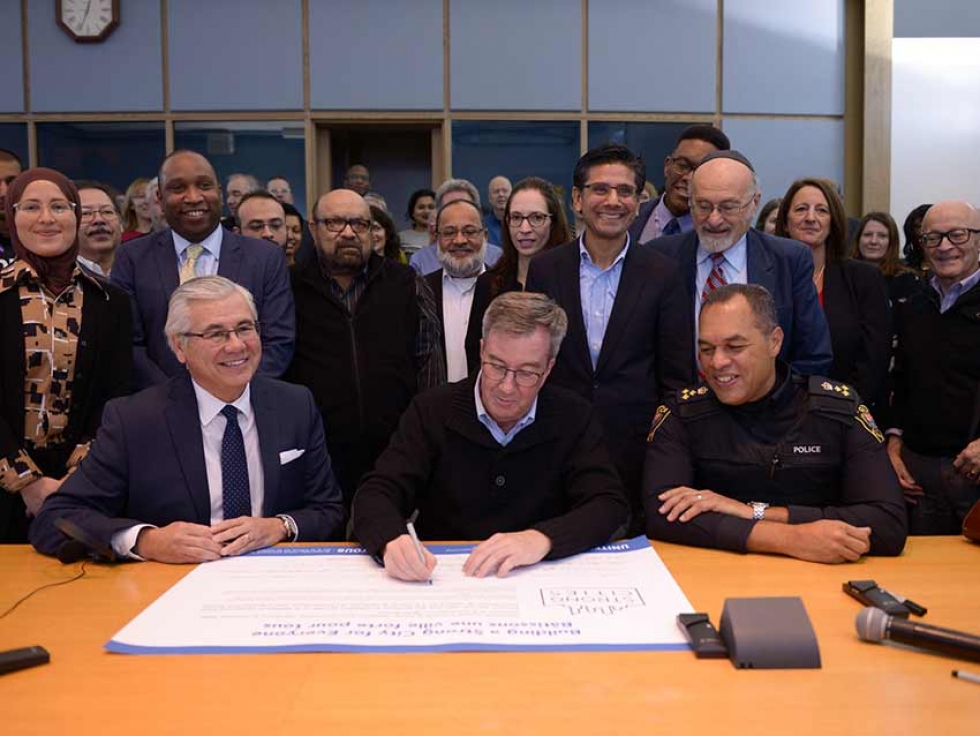 Mayor Jim Watson, Ottawa Police Chief Peter Sloly, and Michael Allen, CEO of United Way East Ontario sign on to United for All Coalition with community partners.
United Way East Ontario
15
Nov


2019
United Way, Mayor, and Police Join United for All Coalition To Address Hate and Violence in Ottawa
Written by United Way Ottawa
On November 15, 2019 more than 30 organizations announced the formation of a local coalition called United for All.
Led by the City of Ottawa, United Way East Ontario, Ottawa Police Service, and joined by many other organizations, the group will coordinate local efforts to overcome hate and violence in our city.
"Ottawa's strength lies in its diverse and vibrant community," said Ottawa Mayor Jim Watson. "I am proud to be working with various organizations and agencies on a city-wide plan to address hate and violence. By finding common ground instead of differences, we invite age, ethnicity, culture, religion, sexual orientation, abilities, values and beliefs to become the fabric of our city and unite, rather than divide, us."
The launch of this coalition is United for All's first step to publicly stand up against issues like racism, homophobia, Islamophobia, anti-Semitism, violence against women and more. Though in its early stages, over the coming year the group will develop a city-wide plan to help address the root causes of hate and violence — with the aim of making Ottawa a welcoming city for all. As part of the plan, the group will aim to secure public and private funding to support its vital work.
In recent years, Ottawa has seen a rise in hate crimes and hate speech toward religious and cultural groups, Indigenous community members and more. According to Statistics Canada, police-reported hate crimes in Ontario jumped by 67 per cent in 2017. In that year, Ottawa ranked among the top 10 cities with highest reported hate crime rates in the country.

As its first milestone today, Ottawa Mayor Jim Watson and the City of Ottawa's leadership signed the Strong Cities Network (SCN) agreement – as the largest coalition of organizations to join the movement. Launched in September 2015, the SCN builds collaboration between mayors, political groups and frontline agencies to tackle violent extremism in all its forms, around the world. Being a member will allow the City and United for All to access research data, capacity-building supports and learning resources, as well as a training hub.
"Ottawa is home to people of all backgrounds and every single person deserves to feel safe and supported," said Amira Elghawaby, community activist and a founding board member of the Canadian Anti-Hate Network. "I'm proud to be part of a coalition dedicated to promoting inclusion and confronting all forms of hatred. I look forward to the work ahead to make our city better for everyone."
"We know members of our communities face Islamophobia, anti-Semitism, racism, xenophobia, and other forms of hate," said Yasir Naqvi, Chief Executive Officer, Institute for Canadian Citizenship." We're here today to show that we are taking a unified approach to help address these issues."
"As a municipality and a coalition we're coming together to show that all forms of hate are unacceptable," said Ottawa city councillor for Rideau-Rockcliffe ward, Rawlson King. "United for All is a call to action; together we will shine a light on violence and hate, and to find a better path forward for our community."
United for All is supported by a table of champions including Mayor Jim Watson, Ottawa Police Chief Peter Sloly, United Way East Ontario President and CEO Michael Allen, CEO of the Institute for Canadian Citizenship Yasir Naqvi, City of Ottawa councillors Rawlson King and Jenna Sudds, journalist and human rights advocate Amira Elghawaby, CEO of Crime Prevention Ottawa Nancy Worsfold, criminal lawyer Michael Smith, the Coordinating Minister at Parkdale United Church Rev. Dr. Anthony Bailey, President and CEO of the Children's Hospital of Eastern Ontario Alex Munter, broadcaster Mark Sutcliffe, and general manager of the City of Ottawa Donna Gray.
Assunnah Muslim Association (AMA) Community Centre, Big Brothers Big Sisters of Ottawa, Capital Pride, Canadian Anti-Hate Network, Canadian Somali Mothers Association, Canadians United Against Hate, Centre for Israel and Jewish Affairs (CIJA), City for All Women Initiative (CAWI), City of Ottawa, Community Development Framework, Crime Prevention Ottawa, John Howard Society, Kind Space, MERIT, Muslim Link, National Christian Foundation, Ottawa Child and Youth Initiative, Ottawa Coalition of Community Houses, Ottawa Local Immigration Partnership (OLIP), Ottawa Muslim Association (OMA), Ottawa Police Service, Ottawa Senior Pride Network, Ottawa-Carleton District School Board (OCDSB), Parkdale United Church, Pinecrest Queensway Community Health Centre, Refugee 613, Somerset West Community Health Centre, South East Ottawa Community Health Centre, Synapcity, United Way East Ontario
The list of United for All members will continue to grow over the next year.
About United for All:
United for All is comprised of a growing list of local organizations that have come together to address the issues of hate, violence and extremism in Ottawa. The group has a table of champions representing the leadership of our city, as well as member organizations that represent the diversity of our community. In this first year, the coalition will build a city-wide approach to tackling hate and violence with a goal of securing public and private funding to bolster its work. United for All has a long-term goal to build social resilience, to support education, advocacy, research, and ultimately, to overcome hate and violence in Ottawa. Website
About Strong Cities Network:
The Strong Cities Network (SCN) is a global network of mayors, policymakers and practitioners united in building social cohesion and resilience to counter violent extremism in all its forms. SCN connects cities, towns and regions around the world to share their local best practices on an international scale and collaborate to prevent violent extremism and the conditions in which extremism and radicalization can take hold in communities. Website