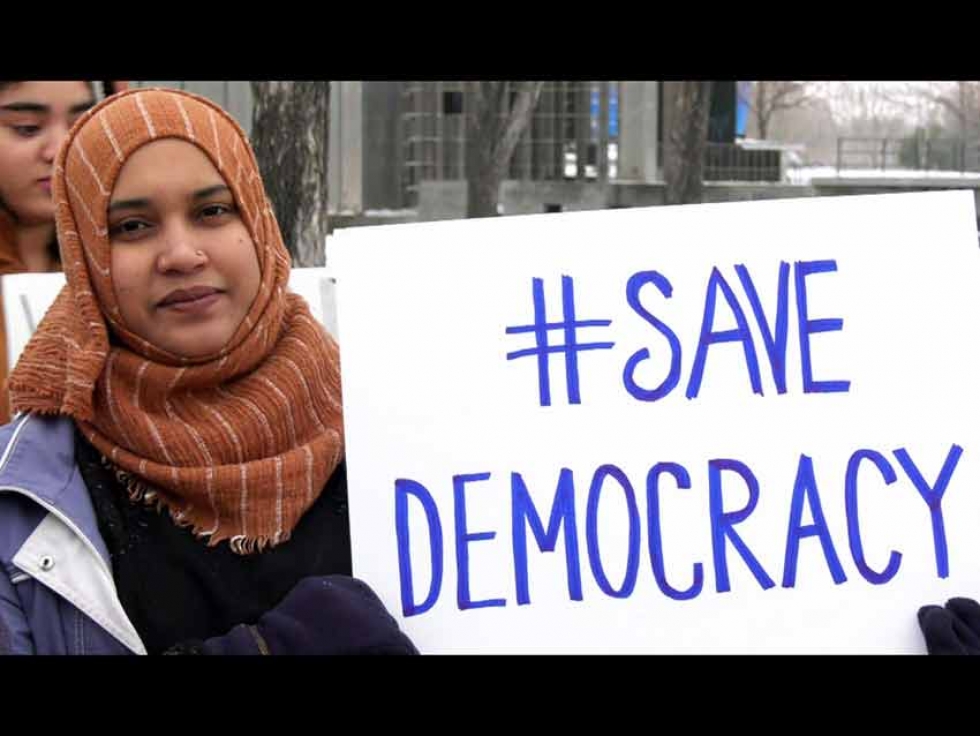 A demonstrator at a protest against the Indian Citizenship Amendment Act that took place in Winnipeg, Manitoba in January
CBC Winnipeg
20
Feb


2020
This Saturday is the Deadline to Sign the Petition Requesting that the House of Commons Condemn India's Citizenship Amendment Act
Written by Making Headlines
Saturday February 22 at 2:32 PM is the deadline to sign a petition to the Canadian House of Commons request it to condemn and request the withdrawal of the Government of India's Citizenship Amendment Act, the National Register of Citizens, and the National Public Register.
The petition is supported by Pakistani Canadian Scarborough Centre Member of Parliament Salma Zahid.
India's Citizenship Amendment Act and other legislation perceived as marginalizing certain religious minorities in India have inspired demonstrations across Canada since December in cities like Toronto, Winnipeg, and Surrey. The Alberta Muslim Public Affairs Council (AMPAC) has launched an email campaign to Canadian Ministers and Party Leaders to condemn India's Citizenship Amendment Act as well.
While writing for The Conversation Canada, Indian Canadian academic Anil Varughese, an Assistant Professor of Public Policy and Administration at Carleton University, explains why so many Indian Canadians, from both religious and secular backgrounds, are concerned about this new legislation because although there is a need to create a pathway to citizenship for migrants to India, the original Indian Citizenship Act of 1955 supported the idea of India as a secular and religiously pluralist society. In the original act, religion is never mentioned as a basis of citizenship.
However, the Citizenship Amendment Act will give priority to accepting non-Muslim migrants from neighbouring Muslim-majority countries such as Pakistan, Bangladesh, and Afghanistan. On the surface this seems like a good idea but as Professor Anil Varughese explains, "The ruling Bharatiya Janata Party (BJP) government argues that [Indian Citizenship Amendment Act] is intended to give sanctuary to non-Muslim minorities fleeing religious persecution from Muslim-majority neighbouring countries. The act assumes every migrant of a non-Muslim persuasion from the three neighbouring countries is a refugee in need of protection. However, the act does not require them to undergo a process to establish a fear of persecution. Nor does it consider that Muslims might fear persecution in neighbouring countries, such as the Rohingya Muslims in Myanmar, Ahmadiyya Muslims in Pakistan and Uighur Muslims in China. While refugee protection is admittedly a noble goal, it is inexplicable why religious minorities facing persecution near India are excluded. The Sri Lankan Hindus and Bhutanese Christians are also excluded. And what of the victims of other forms of persecution beyond religious persecution?"
The Citizenship Amendment Act will also make it difficult for Muslim migrants to find a path to Indian citizenship. As Professor Varughese further explains, "In contrast, Muslim migrants with similar origins and migratory backgrounds would be considered illegal migrants. Muslim migrants would also be far more likely to be detained, imprisoned and deported for doing nothing more than their [non-Muslim from Muslim majority country] counterparts who would now receive expedited citizenship."
According to Professor Anil Varughese, "The act clearly undermines the basic tenets of India's democracy. Attaching citizenship rights to religious affiliation runs counter to the letter and spirit of India's constitution and constitutional morality. It goes against a long and rich history of religious pluralism, secularism and defensible right to equal treatment before law. It will permanently damage India's pluralistic social fabric."
For readers in Toronto, the group Canadians Against Oppression and Persecution is organizing an event on Saturday, February 22nd with Indian and Canadian academics who will be discussing the implications of the Indian Citizenship Amendment Act at the Noor Culture Centre. To learn more about this event, click here.
This article was produced exclusively for Muslim Link and should not be copied without prior permission from the site. For permission, please write to info@muslimlink.ca.