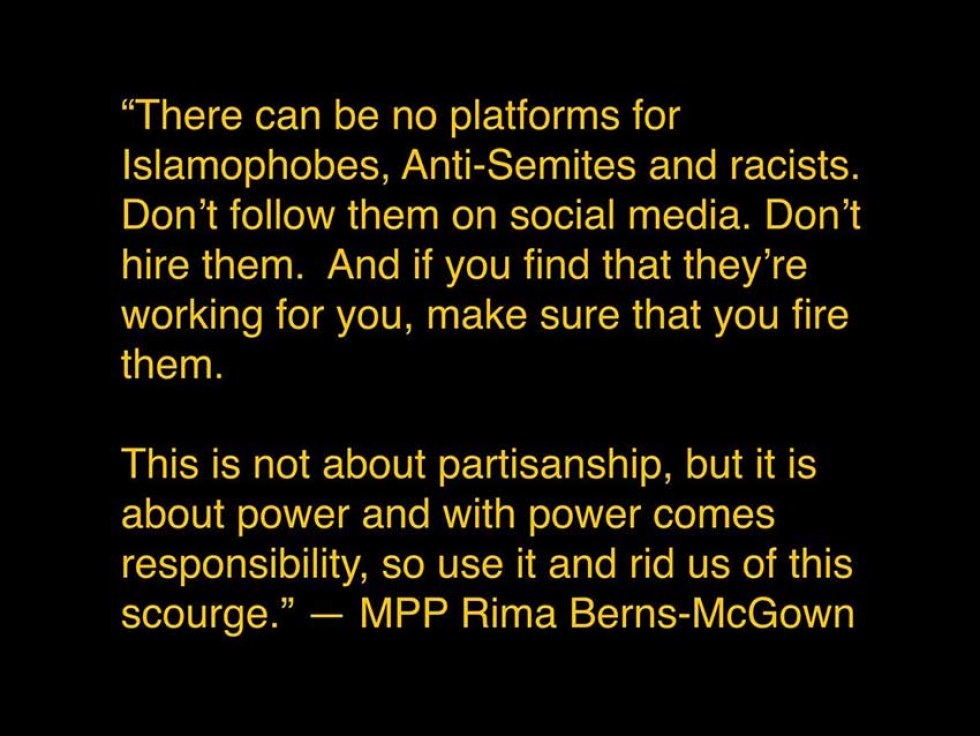 From the speech given by Beaches-East York MPP Rima Berns-McGown at the Toronto vigil for the New Zealand Mosque Attack
21
Mar


2019
Ontario MPP Introduces Bill to Designate January 29 as Day of Remembrance and Action on Islamophobia
Written by Making Headlines
Beaches-East York MPP Rima Berns-McGown presented a private member's bill, Bill 83, for first reading on March 19th.
It asks the government of Ontario to designate January 29 as an annual "Day of Remembrance and Action on Islamophobia."
The Bill 83 is set to receive a second reading on April 4 when it will be debated and voted on.
Since the attack on a mosque in Quebec on January 29, leaving 6 men dead, there have been calls on the federal government to declare this date a day of remembrance.
Cities such as Toronto, Mississauga, Brampton, Markham and Hamilton have already recognized this day.
MPP Rima Berns-McGown spoke about this bill during her speech at the March 15th vigil in Toronto for victims of the New Zealand Mosque Terrorist Attack.
On her Facebook Page on March 19th, she stated, "We can no longer collectively pretend to ignore the connection between these violent white supremacist attacks and the political discourse that stokes them — and we have to hold our political leaders accountable."
Before becoming a Member of Provincial Parliament, Dr. Rima Berns-McGown was an academic who was involved in the Mosaic Institute's research into "imported trauma", the way Canadians who were themselves or whose families or communities were victims of conflicts in other countries come to understand those conflicts and their relationships with fellow Canadians from the communities who may have victimized them, their families, or communities.
The following is an excerpt from Bill 83:
The Ontario Human Rights Commission states the following with respect to Islamophobia: "Islamophobia can be described as stereotypes, bias or acts of hostility towards individual Muslims or followers of Islam in general. In addition to individual acts of intolerance and racial profiling, Islamophobia leads to viewing Muslims as a greater security threat on an institutional, systemic and societal level".
In the aftermath of the Quebec attack, the Ontario Human Rights Commission called on "governments and communities, and each one of us, to ask again, what we can do, what we must do, to eliminate Islamophobia".
Therefore, Her Majesty, by and with the advice and consent of the Legislative Assembly of the Province of Ontario, enacts as follows:
January 29 in each year is proclaimed as a Day of Remembrance and Action on Islamophobia.
Read the complete bill online here