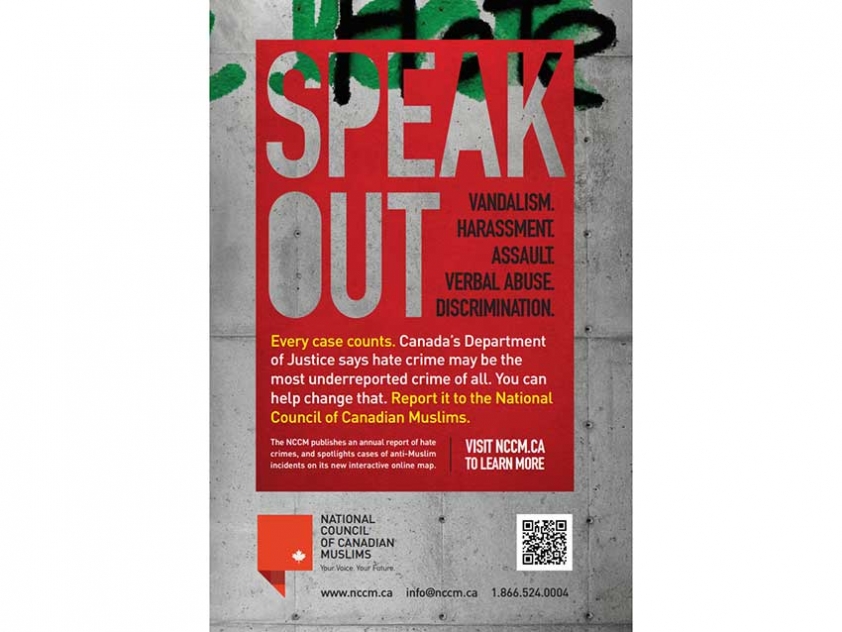 Poster from the National Council of Canadians Muslims' campaign to encourage the reporting of hate incidents.
Courtesy of NCCM
22
Oct


2015
There has been an increase in hate related incidents in Ottawa reported this October, particularly targeting Muslim women wearing hijab or niqab. The Ottawa Police Service has reached out to the Muslim community and the mainstream media to encourage reporting of these incidents.
Dr. Aisha Sherazi, who represents the Muslim community on the Community Police Action Committee (COMPAC), which aims to foster dialogue and cooperation between local police and Aboriginal, racialized and diverse communities noted a number of hate incidents being posted by local Muslim women on social media beginning in early October.
"In the last month alone, I've encountered several incidents of verbal abuse directed towards Muslim women," Sherazi shared, "One friend was called a terrorist whilst at lunch downtown. Another was told to get that rag off her head at Loblaws. A more serious incident involved a young woman being followed on her way to the University of Ottawa whilst being verbally abused." What was particularly troubling was that at least two incidents of verbal intimidation occurred against Muslim women during the advanced polls over Thanksgiving Weekend.
Sherazi reached out to Staff Sergeant David Zackrias of the Ottawa Police Service's Diversity and Relation Relations Section and the Police Vice-Chair of COMPAC, to see if he could help to address the issue.  S/Sgt. Zackrias welcomed the call, "It's important for police organisations to be able to understand and know what is taking place in the community," he explained, "these alleged incidents sounded quite disturbing. There is an argument made about freedom of expression but at the same time the fundamental thing is safety and everyone has that right. Not all incidents are criminal in nature but even non-criminal incidents can potentially escalate so it is important for police to be aware of what is happening and we depend on the public to let us know."
Amira Elghawaby, the Communications Director with the National Council of Canadian Muslims (NCCM), is not surprised by the rise in these incidents given how Muslims, particularly Muslim women's dress, has been debated during the election and in media. "What we have noted is that whenever Islam or Muslims are in the media in a negative way – for example, following the fatal shooting in Ottawa last fall or following the Charlie Hebdo massacre -we notice a spike in the number of hate crimes and incidents reported in the media and to us," she stated. Both Elghawaby and S/Sgt. Zackrias were interviewed by CBC about the incidents.
S/Sgt. Zackrias sees police as playing an important public education role when incidents like this occur. "The Ottawa Police Diversity and Race Relations Section exists to ensure that police respond effectively, appropriately and sensitively to all members of the community, particularly to those who have been traditionally marginalized in our society," he explained.
The Section has been proactive in addressing Muslim community concerns. Last year, in the wake of the tragic shooting of Cpl. Nathan Cirillo by Michael Zehaf-Bideau, S/Sgt. Zackrias and Hamid Mousa, who works in the police service's Community Development Section, drove across the city visiting local mosques. "Any time there is an incident like that you will see the ripple effect take place so our job is to ensure that innocent people are not victimized," he explained, "We drove around to various mosques in the city to let them know that if they are being targeted they can call the police and we will work with them to address these issues. We wanted to ensure that the Muslim community didn't feel marginalized, vulnerable or alienated."
S/Sgt. Zackrias was particularly concerned about how women seemed to be the focus of incidents and was concerned that Muslim women might be discouraged from voting on Election Day out of fear. He shared his concerns during a meeting at the Ottawa Inuit Children's Centre. A colleague there suggested that a good way to raise awareness about the issue would be through a Twitter hashtag similar to #illridewithyou which developed out of hate incidents against Muslim women on Australian public transit in the wake of a terror incident. S/Sgt. Zackrias shared the idea at another meeting which involved the City for All Women Initiative (CAWI), a local project aimed at addressing municipal gaps in equity and inclusion. They developed the hashtag #illvotewithyou offering to arrange accompaniment for Muslim women afraid to vote alone. The hashtag was soon taken up by the Ottawa Coalition To End Violence Against Women (OCTEVAW). "One of our Police Chief's priorities is addressing violence against women and these alleged incidents are hate related but they are also examples of violence against women," S/Sgt. Zackrias stated.
According to Amira Elghawaby, it does look like Muslim women are disproportionally the targets of hate. "Professor Barbara Perry from the University of Ontario (UOIT), has undertaken research which supports the belief that visibly Muslim women are more often the targets of hate crimes or incidents," she stated.
But one of the problems with addressing these incidents is that they are underreported to police. "We have to remember that hate crimes, like other crimes, are underreported. So we can't know the true scope of the problem unfortunately," Elghawaby stated. One concern Elghawaby has seen is fear of being stigmatized when reporting. She supported a family who experienced a hate incident but were concerned about police coming to their house to take a report because their neighbours might assume they were involved in criminal activity. Dr. Sherazi agrees that there are many reasons why Muslims may not be reporting to police. "Sometimes, they feel it won't achieve anything. Other times, they're worried they will feel more victimized. It's different for different people," she stated.
Elghawaby also noted that part of the problem is what people are told when they call police. "Victims are sometimes discouraged from reporting at all," she explained, "The woman in Toronto a few weeks ago who was attacked at a mall was discouraged by a police officer from reporting the incident and was told that it was unlikely an arrest would be made and that it was a low priority.It was only after NCCM encouraged her that she followed up to request police visit her to take a full report."
But Dr. Sherazi found the Ottawa Police to be very supportive. "I've found the police to be very receptive on the whole," she explained, "The Diversity and Race Relations Section moved quickly to get information out to the community. Police are there to help and to take down information and act on it if there's enough evidence to go on. Regardless of how apprehensive people might feel about law enforcement agencies, I'd urge people not to hesitate to report incidents of verbal or physical abuse. This helps police build a picture of safety in the city, even if the individuals aren't apprehended.
"It's important that people report to the NCCM also," Dr. Sherazi stated, "because they're collecting data nationwide and advocate on our behalf." NCCM is currently mapping hate crimes and incidents across the country. Their map can be viewed here.
S/Sgt. Zackrias recommends that when reporting to police it is important to share as many details as possible. "For example, if the offender is driving a vehicle we need a description of the car, the license plate if possible, a description of the offender," he explained, "These are like pieces of a puzzle which will help us to be able to follow up on the incident."
S/Sgt. Zackrias commends Dr. Sherazi for reaching out to police and feels this is an example of the ways in which community and police need to work together. "Police alone can't fix all of the problems in our society. Communities need to be partners with the police. Safety is a shared responsibility," he stated.
Follow the Ottawa Police Service Diversity and Race Relations Section on Twitter here
**********
All forms of abuse, be they verbal, or physical, should be reported to the Ottawa Police Service. If these types of incidents are not reported, little can be done to help other members of the community from also being victimized.  Reporting helps police build a clearer picture of emerging issues in our city and our overall safety.
While not all incidents are crimes, community members are reminded to make the right call.
911                                         Life-threatening emergency or crime in progress
613-230-6211                        Other emergencies
613-236-1222 ext: 7300       Call Centre: To report non-emergency by phone
www.ottawapolice.ca             Report online
This article was produced exclusively for Muslim Link and should not be copied without prior permission from the site. For permission, please write to info@muslimlink.ca.