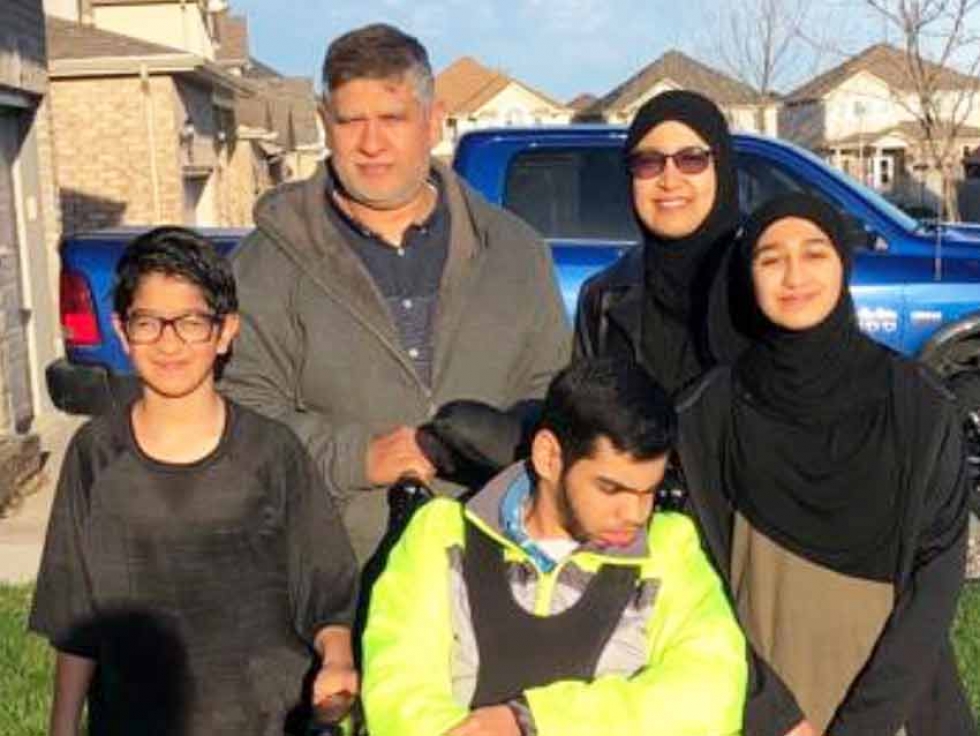 Huma Khan with her sons Abdallah and Ahmad as well as her husband and daughter.
17
May


2019
One Family's Struggle to Purchase A Wheelchair Accessible Van for Their Children with Disabilities
Written by Chelby Daigle
Muslim Link tries to highlight the fundraising efforts of Muslim Canadian organizations and individuals in our Crowdfunding/Fundraising Section. We often learn of both the inspiring and harrowing stories of our Canadian Ummah from these campaigns.
Recently, London Ontario based Huma Khan, the mother AbdAllah and Ahmad, reached out to us to see if we could highlight her family's urgent need to purchase a wheelchair accessible van for her sons. 
As she explains:
"Every week, AbdAllah (who was diagnosed with Cerebral Palsy, Epilepsy, Scoliosis, and Global Developmental Delay due to loss of oxygen at birth ) and Ahmad (who was diagnosed with Spastic Diplegic Cerebral Palsy and Global Developmental Delay due to loss of oxygen at birth) go to therapists, attend swimming sessions, and participate in leisure activities, attend medical appointments, plus, there are family gatherings to go and enjoy. Up to this point, we've been using a regular vehicle for their transportation to wherever they need to go.
With AbdAllah (20 years old) growing up, we, his parents are getting old. He is gaining weight steadily and it has become more difficult to lift and transfer him into a regular vehicle. After AbdAllah's Spinal Fusion Surgery, he now has a specialized wheelchair specifically designed for his new curvature. His new wheelchair is larger, heavier, unfold-able and cannot fit in a regular vehicle.
Also, this month, we learned that our son Ahmad (11 years old) is going to have 5 types of surgeries on each leg in Toronto. This is a major surgery and he is going to be wheelchair bound for 6 months after the surgery. Three years is the full recovery time given to us by the doctors.
So what began as a 'want' for a wheelchair accessible van has now become an urgent 'need'.
A minivan with side entry for wheelchairs will help us better support the daily needs of both our sons. All money raised through this Campaign will be used to buy a "Wheelchair Accessible Van" for these wonderful boys."
Muslim Link interviewed Huma about her family's journey in an effort to educate ourselves and our readers about the realities facing Canadian families supporting children with severe disabilities.
Tell us about yourself and your family
I was born and raised in Pakistan. I graduate from university and worked before I left the country for marriage. I always had a soft spot and was towards people with disabilities growing up. I had always noticed them in the community and wondered why they were so "visible" yet also so "hidden" from society's eyes. I wanted to help them but didn't know how. Maybe Allah was preparing me with knowledge about these very special people because of what was coming in my future.
After getting married, I moved to Saudi Arabia to live with my husband. He was also born and raised in Pakistan and was living in Saudi Arabia for work. We had a nice apartment and life was all good and we were happy.
After one year, Allah blessed us with a son. We named him AbdAllah. I was so happy and proud to be a mother, though it was a difficult beginning because his oxygen supply was compromised during the delivery resulting in a brain hemorrhage. We only learned about this on the third day of his birth, when he started having seizures and body discoloration. Before we could fully understand what was wrong, AbdAllah went into a coma and was placed in an incubator in the ICU. I still remember sitting outside the neonatal pediatric unit without feeling any pain, thirst or hunger, praying to Allah non-stop for my baby's life.
Finally, on the sixth day, he woke up but the seizures didn't stop. He was diagnosed with Cerebral Palsy (CP) and Epilepsy (Neonatal Seizure Disorder). Later on, he was discharged with multiple medications and given only around 6 months to live. He was having multiple kinds of seizures (Grand Mal seizures, Tonic Colonic seizures, Convulsions, twitches). Taking care of him day and night I kept praying for his life. Fear of losing him was unbearable. With the mercy of God, I witnessed a miracle when he turned one year…with all the odds against him and still suffering with multiple kinds of seizures, he was still with us…
He turned 2 years then 3 years… seizures were still not controlled even with multiple medications. He was not able to control his head, not able to chew food, not able to change side or sit… his disabilities were apparent when he missed many growth milestones. Still with uncontrolled seizures, his neurologist told us there is nothing more he could do for him and suggested to take him to the Sick Kids Hospital in Toronto Canada, if we could.
In March of 2003, we moved to Canada. Here under the care of another neurologist, his seizures were finally under control. AbdAllah's diagnoses are Cerebral Palsy (CP), Seizure Disorder, Global Developmental Delay (GDD), Scoliosis and GERD. In 2016 he had a major life threatening surgery (Spinal Fusion with bone grafting) done to correct his spinal curve. This year, he is going to have another procedure for G-Tube. He is now 20 years old, still alive, Alhamdulillah.
I always wished to have more children. 5 years after AbdAllah, God blessed us with a daughter. We were so happy to have a healthy child. I settled down into the routine of caring for a normal healthy child and also a special needs child. Life was all good and we were happy.
In another four years, Allah blessed us with another boy, Ahmad. We believe everything happens for a reason. Ahmad had difficulty breathing after birth causing low oxygen supply to his brain resulting in brain hemorrhage, similar to what happened to his brother. He didn't suffer with seizures though but later on was diagnosed with Spastic Diplegic Cerebral Palsy (CP) and Global Developmental Delay (GDD) at the age of 1. He is 11 years old now, along with CP and GDD he has a diagnosis of Anxiety and Behavioral Issues. He uses a walker to help him walk and a stroller specially designed to meet his needs. He wears AFOs to have better control when walking. This month (May and June), he is going to have 5 types of surgeries on each leg in Toronto. This is a major surgery and he is going to be wheelchair bound for 6 months after the surgery. Three years is the full recovery time given to us by the doctors.
For this reason, we urgently need to purchase a wheelchair accessible van so we can transport our sons.
You can watch a video about AbdAllah's journey below (It may take a few moments for the video to load from YouTube).

Could you describe the challenges your sons face on a daily basis?
Both of my sons have similar diagnoses, but they have unique needs.
AbdAllah's diagnoses are Cerebral Palsy, Seizure Disorder, Global Developmental Delay, Scoliosis, cataract in left eye and GERD. Physically, AbdAllah is 20 years old but his mental age is around 5 months old. He needs to be taken care of like a baby. He cannot talk, cannot walk, cannot use his hands purposefully, cannot chew food, cannot feed himself and is incontinent (wears diapers). Taking care of him is hard, "very" hard. And watching him having seizures is even harder. He cannot talk so we have to guess all his needs. Strict routine for everything works best. He has placement at a school for day program (With IEP in effect) but will be graduating this summer. After graduation, he will have placement for day programs at "Participation House – Project Hope" where he will be going for three days a week. This is a private setting and fees will be paid by "Passport Funds" (funds allocated by the government to purchase programs or services for people with disabilities).
When a Special Needs child becomes an adult (18 years of age) in Ontario, the provincial government cuts back all the funds, giving parents only two options: Send your child to a Nursing Home or take full responsibility for all their care and expenses. Our family does not want to send our son away.
Ahmad's diagnoses are Spastic Diplegic Cerebral Palsy (SDCP), Global Developmental Delay and Anxiety and Behavioral Issues. He can walk with the help of a specially designed walker, he can talk and feed himself. The CP type he has affects all muscles in his body, specially his legs. He is getting BOTOX injections in both his legs (every 4 months) since he was three years old. Now that the injections are not working anymore, he is going to have surgeries in May and June in Toronto. I will be leaving home to stay with him in the hospital in Toronto.
Ahmad goes to school full time but there is IEP (Individual Education Plan) is in effect. It is hard for him to make friends due to his physical conditions and disabilities. Strange looks and questions bother him. Every now and then he comes back from school unhappy and sad because someone made fun of the way he walks or talks. Seeing him in tears just breaks my heart.
The activities and supports for special needs children are not enough. Recently, the Ontario Government cut back funds and made it even harder to afford services for them. Parents right now are fighting with the provincial government for get these supports back for their children.
Participation in Muslim community activities is impossible as there are none available for people with these types of disabilities in London, Ontario.
Your family is currently facing an overwhelming challenge. You are crowdfunding to purchase an accessible van for your sons. Could you explain why this van is needed and particularly why it is needed so urgently now?
My older son, AbdAllah, cannot walk and is wheelchair bound. We used to safely pick him up and place him in a car seat then fold his small wheelchair to secure it in car trunk. It was working when he was light in weight and his wheelchair was small and foldable. He is an adult now, weighing around 99 pounds. With his growth and weight gain, his wheelchair is now larger, heavier and un-foldable and does not fit in car trunk. With him growing up, we, his parents, are growing old. It is very hard for us to pick up him up safely and transfer him in to our car. Any kind of fall can cause major damage to his fused spine. He is currently being transported by the school bus but he is graduating soon and will be going to a different place for daytime activities. They do not provide transportation so it will be our responsibility to pick him up and drop him at the designated location.
Ahmad, as I said before, uses a walker and special stroller to move around. They are also bigger in size and don't fit in car together.
Apart from the need of this wheelchair accessible van for AbdAllah, we need it for Ahmad too as he will be wheelchair bound for at least 6 months after surgeries on both legs this month. We would need an accessible van to attend medical appointments for both boys.
If we had a wheelchair accessible van, it will become easy to pick up and drop off AbdAllah to and from his day programs. We won't need to decide anymore which boys is going outside and which is one staying home because there is no room in our car for them to travel together. It will become easier to move around in society as a family.

So knowing the "need" for this accessible van, I collected all the information, the kind of van we need, what kind of modification will work best for our family, etc. The details were mind blowing as reality hit me hard. Purchasing an accessible van is "very" expensive and the government will only fund a small portion of the modifications and covering the rest of the costs is the family's own responsibility.
We do not have enough funds to cover these costs as my husband is now unable to work as he is the Primary Care Giver for our family as I also live with a disability and am supported by ODSP (Ontario Disability Support Program). It is impossible for us to afford to buy the van we need.
Overwhelmed with stress and helplessness, I started a crowdfunding campaign on GoFundMe in November 2018 to raise funds to buy accessible van. Then I learned about LaunchGood, a crowdfunding platform for Muslims, so we also have a crowdfunding campaign on that site too. I have divided the full amount we need to fundraising between each campaign page so that is why the amounts are different on each page. We are still very far way from our crowdfunding goal and Ahmad's surgery and AbdAllah's graduation are fast approaching.
I am so humbled and thankful to all the wonderful people, most of them strangers, who have contributed so far, but we are still way behind the amount we urgently need to buy this vehicle.
On top of the financial strain of supporting children with disabilities, this also impacts the well-being of all family members. If you are comfortable, would you like to share about the need for more social and mental health supports for caregivers based on your own experience as a caregiver?
People usually assume that special needs families have enough physical and financial support from the government. I hear it all the time. In fact, it's not true. The government only funds a few basics and expects the family and the community to do the rest. Caring for a special needs person is costly and we face a lot of physical and financial challenges taking care my beloved sons. We cannot buy therapy services with government allocated funds. Everyone knows that all these therapies are very costly in Canada still but still we are often told by community members that we, parents, are greedy and want more and more funds even though we are getting more than enough. People do not understand and don't take the time to learn about what challenges families like ours are facing across this province. It's heart wrenching when instead of receiving support, even just emotional support, we just hear negative comments from our community members. Special needs parents are fighting with the government to keep the funds which are cut back recently. This is a reality I hope your readers will try to learn about before they judge other the parents of other special needs children.
For me, taking care of two special needs children for 20 years took its toll on my physical and particularly my mental health. I was diagnosed with depression in 2010 and have had to be hospitalized over the years due to my mental illness. My poor health defiantly has affected my family. Because of my diagnosis, I cannot be considered the Primary Caregiver for our children which is why my husband had to leave work in order to take care of our family. This situation is not unique to our family, special needs parents across the country are facing similar challenges which is why everyone needs to better understand the struggles we face and at least offer emotional support.
Please share your hopes about what this interview accomplishes.
Obviously, I hope that some readers will contribute to our crowdfunding campaign as it is Ramadan, a time of zakat and sadaqa (charity).
But I also hope that everyone, including those who cannot contribute, will take the time to learn more about what challenges (physical, mental, social, and financial) being faced by people with special needs and their families in Ontario and across the country.
Particularly, I hope that more Muslim community members would come forward and work together to help families like us whose needs are very high and different than the rest of the community. I wish Muslim Community understands and help us in this time of great need both to purchase a wheelchair accessible vehicle but also to create more accessible community events and programs so people with special needs and their families can participate and not feel isolated from the community. Over the years, I have been told to not bring my AbdAllah into the masjid because of his wheelchair. I have been told to leave him in the shoe area because his wheelchair is dirty. Why can't we work together to come up with ways to accommodate community members with wheelchairs in our masjids?
I also hope that sharing my stories helps other members of our community facing the same challenges as my family feel less alone in their struggles.
Thank you for taking the time to read my family's story.
To contribute to the crowdfunding campaign so the Khan family can purchase a wheelchair accessible van, click here for the LaunchGood page or here for the GoFundMe page.
This article was produced exclusively for Muslim Link and should not be copied without prior permission from the site. For permission, please write to info@muslimlink.ca.