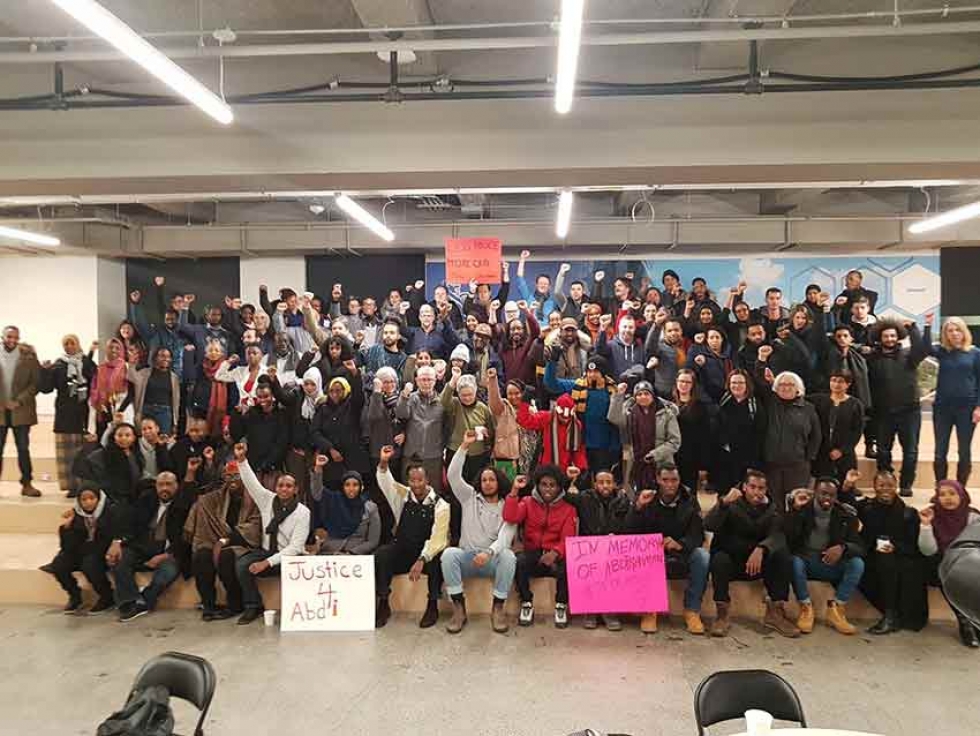 Community members gather at the vigil for Abdirahman Abdi on February 1, 2019.
Justice for Abdirahman Coalition
21
Feb


2019
Justice for Abdirahman Coalition Update: Community Support Needed as Trial of Ottawa Police Constable Daniel Montsion Adjourned
Written by Justice for Abdirahman
IT BEGAN
On February 4th, 2019 the criminal trial of Ottawa Police Const. Daniel Montsion began in Ottawa, on charges of manslaughter, aggravated assault, and assault with a weapon in connection with the beating death of Abdirahman Abdi (May God have mercy on him).
The trial is scheduled for a 12 week period from February 4th to May 3, 2019.
IT WAS ADJOURNED
On February 6th the trial was adjourned unexpectedly due to revelations of potential new piece of video evidence.
The trial is set re-start on February 25 2019 and this question about the evidence will be addressed.
SUPPORT NEEDED
We are taking this adjournment as a blessing in disguise.
This two week pause on the trial has helped us reassess what the true needs are during the trial. Having taken part in the first few days of the trial we now see the need to coordinate community support for the cause in the name of justice.
This trial is one of Ontario's most critical criminal trials, one that will affect all of us. Regardless of the outcome it will set a new precedent. It is important for the public to take witness to the proceedings.
PLEASE ATTEND THE TRIAL
We are calling for supporters of the Justice for Abdirahman Coalition to take notice of this trial and attend as much of it as possible.
Everyone is welcome, no ID is needed.
To facilitate representation each day, we are coordinating participation via this link: Attend Trial.
Add your phone number if you are interested in being called on to support on other days as needed.
Moreover, each day a member of the Coalition will be on site to direct people and coordinate participation.
Here are some details:
Beginning Feb 25th the trial takes place Monday-Friday
TIMING: 9:30 am -11:30 am & 1:00 pm - 5:00 pm
Court room #34, 161 Elgin Street
The trial will continue until May 3, 2019.
Everyone is welcome and community support is paramount!
The schedule may vary day-to-day so for more information or to register by phone please call (613) 526-2075 (No media calls), or email This email address is being protected from spambots. You need JavaScript enabled to view it.
Your presence at the trial will show that there is strong public interest and that the public is paying attention.
REMEMBER WHAT HAPPENED
Here is a quick video to give you background on the case:
Video: Abdirahman Abdi and the upcoming trial (May take a few moments to load from YouTube)
We hope we can count on seeing you at the trial.
Thank you for your support.