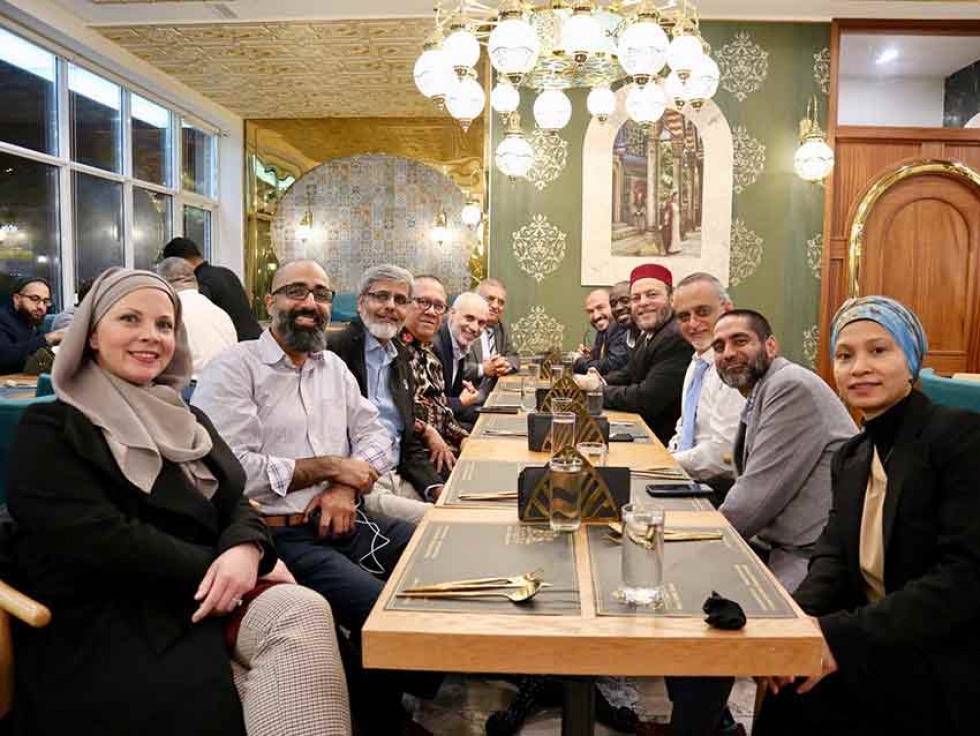 The Halal Expo Team with some of the 2019 Expo speakers at Nafisa Authentic Sweets & Cuisine, a restaurant that was also an exhibitor at the Expo.
Halal Expo Canada
23
Jan


2020
Halal Expo Canada is Gearing Up for Its Next Expo in 2020
Written by Chelby Daigle
The first ever North American B2B trade expo focusing on the halal lifestyle industry, Halal Expo Canada, took place from October 8 to 9 2019 at the International Centre in Mississauga, Ontario. 
Now the Halal Expo team is gearing up for the 2020 Expo from September 17 to 19 2020.
Muslim Link was a proud media partner for Halal Expo Canada 2019 and we hope to support this important initiative in 2020.
First, we want to give readers an overview of the successes of the 2019 Expo and what attendees can look forward to in 2020.
Halal Expo Canada 2019 attracted more than 71 exhibitors from 11 different halal lifestyle industries. Industries represented at the exhibition included food & beverage, finance & investment, travel & tourism, health supplements, fashion, cosmetics, and halal certification bodies.
Expo participants, which included importers, distributors, wholesalers, retailers, restaurant owners, bankers and financiers, government officials, and diplomatic missions, came from across Canada and the United States as well as countries such as Pakistan, Indonesia, Nigeria, Egypt, Bangladesh, China, and Uganda.
Mississauga was chosen as the ideal city to host the expo as it is home to one of the largest Muslim communities in Canada. 
Bonnie Crombie, the Mayor of Mississauga, stated in her message to the expo that "I'm delighted that Mississauga was chosen as the site of North America's only trade expo dedicated to the Halal lifestyle industry. Mississauga is open for business. We are a place where people choose to live and work and where businesses want to invest and innovate. When you hear me say diversity is our strength, I am not just talking about our people. I am talking about our business community. As a result, we are attracting the creative thinkers, innovators, influencers, and entrepreneurs, who are helping us stay one step ahead of the competition. This expo is an opportunity for businesses to network, connect, enjoy a wide array of delicious halal cuisine and, hopefully, make a decision to locate in Mississauga."
The Expo also saw the launch of the Ontario Muslim Chamber of Commerce (OMCC). According to Hossam Khedr, one of the co-founders of OMCC, "The Halal Expo Canada gave us a fantastic platform to launch OMCC in front of key business leaders.  We had an opportunity to exchange ideas and seek input for OMCC from various Halal industries at the expo. We are looking forward to continuing our involvement at the Halal Expo Canada  as it provides us a great opportunity to network and build relationships."
Halal Expo Canada exhibitor Aarij Bashir, who is a Trade Relations Officer with the Alberta Agriculture and Forestry International Market Development Section, stated that "As part of the government, our mandate is to promote and trade exports from Alberta through various channels and Halal Expo Canada was a great opportunity for Alberta companies to meet potential clients and generate business leads."
For Hamid Abdel-Raman, the CEO of Canvita Canada, a Calgary-based business that manufactures halal vitamins, attending the expo was great for his business, he stated "We were able to penetrate Canada's largest market and secure our halal product in several major outlets leading to the increase in our sales by 200%."
For Nabeel Ishtiaq, Marketing Manager with Mina Halal, one of the platinum sponsors of Halal Expo Canada, the presence of international potential clients at the expo was particularly beneficial, he stated "We have received a surprising interest from buyers who originate outside of Canada which is great as it means that the expo is able to attract quality buyers from overseas. We wanted to make a greater effort in branching out into markets like the USA, Europe and Asia so participating in the fair provided us with an ideal opportunity."
Investment Advisor Sameer Azam with RBC Wealth Management stated "Being the largest financial institution in Canada and working towards serving the growing Canadian Muslim community, we found Halal Expo Canada to be a great catalyst for our wealth management solutions. The show definitely generated great interest and we are seriously considering expanding our presence in 2020."
In order to build on the success of Halal Expo Canada, Nasser Deeb, Halal Expo Canada's director, is planning an earlier international marketing campaign. Nasser explained that "We have already travelled to Turkey to participate in their Halal Summit in which we have secured the support of the Turkish government and other supporting bodies around the world. We are also planning to exhibit in April at the Malaysia International Halal Showcase (MIHAS) at our very own Canadian Halal Pavilion that we have developed!"
There will also be a modest fashion show at the 2020 Expo and the expo will also run on a Saturday which offers the opportunity for business owners who are unavailable during weekdays to participate. 
"We have just finished the renewal process of 2019 exhibitors last December which was very positive and we are now accepting new exhibitors" shared Nasser. 
To learn more about Halal Expo Canada 2020, visit the Halal Expo Canada website
This article was produced exclusively for Muslim Link and should not be copied without prior permission from the site. For permission, please write to info@muslimlink.ca.