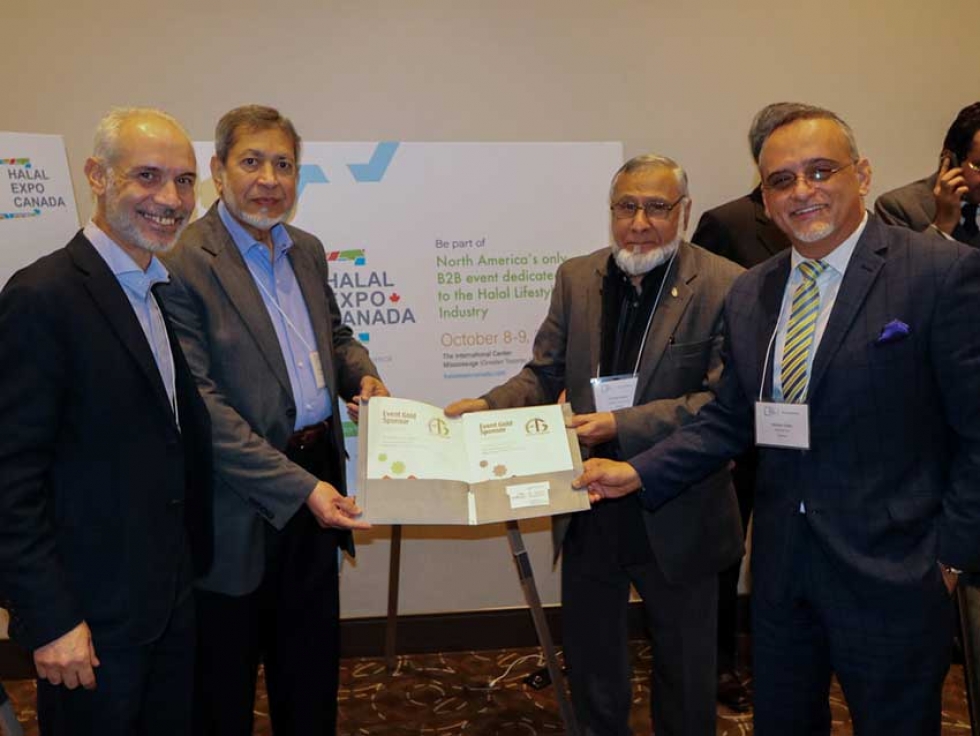 (from left to right) Hossam Khedr (Advisor, Halal Expo Canada), Mohammed Jalaluddin (President, Ansar Financial Group), Pervez Nasim (Chairman, Ansar Financial Group), Nasser Deeb (Director, Halal Expo Canada) at Halal Expo Canada planning meeting in October 2018
28
Jan


2019
Just a few decades ago, the only way that many Canadian Muslims could get zabiha halal slaughtered meat was to go to a local farm and slaughter it themselves. Today, the availability of halal meat from street food vendors, in supermarkets from brands such as Mina Halal, and franchises like Hero Burgers is a testament to the growth of the halal industry in Canada.
As the demand for halal products and services in North America grows, so too do the challenges and opportunities for businesses in this expanding industry. 
With 27 years of experience organizing trade shows in a variety of industries, THE EXPO HUT CEO, Nasser Deeb saw that the time was ripe for the halal lifestyle industry in North America to have a trade show of its own.
The concept of Halal Expo Canada "was developed based on the market need to have a professional trade platform to further raise the standards of the halal industry in North America," he explains.
The Only Halal Trade Show in North America
Unlike a bazaar where businesses sell products to consumers (B2C), a trade show like Halal Expo is designed for businesses to meet suppliers, distributors and other businesses in similar positions in the supply chain (B2B). Deeb explains that Halal Expo is unique in that "it is targeting businesses and investors in the halal life industry and it approaches the trade aspect of halal and how it can be further improved and developed."
It's an opportunity for businesses in the halal lifestyle industry to "expand their market or distribution channels, form partnerships, generate leads, supply large quantity of products, launch and further enhance their branding initiatives," says Deeb.
If the concept sounds unfamiliar, it's because it's new in North America. Halal Expo Canada brands itself as "North America's only B2B event dedicated to the Halal Lifestyle Industry". It's a business oriented event designed to develop the industry, share ideas, facilitate networking and spark new business partnerships.
More Than Halal Meat
Although the term "halal" is most commonly associated with food, the halal industry covers sectors as diverse as tourism, fashion and financial investment.
According to a recent New York Times article on The Rise of Halal Tourism, the number of Muslim travellers has grown nearly 30 percent in the past three years and "a recent joint study by Mastercard and Crescent Rating, a research group that tracks halal-friendly travel, projects that over the next decade that sector's contribution to the global economy will jump to $300 billion from $180 billion USD."
HUSNA Inc., a North American Premier Halal Tourism Company which participated in Halal Expo's planning meeting in October is one business that is facilitating this trend. 
One example of a halal tourist destination that reflects global supply chains is the Yang Good Korean BBQ restaurant in Seoul, South Korea, which serves halal lamb from Australia and halal chicken from Brazil and is particularly popular with Malaysian tourists.
According to the State of the Global Islamic Economy Report 2018/2019, Muslims spent $2.1 trillion USD in 2017 across lifestyle sectors, while the Islamic finance sector has $2.4 trillion USD in total assets. The sector that Muslims spent the most on was halal food and beverages ($1.3 trillion USD), followed by fashion ($270 billion USD), media and entertainment ($209 billion USD), travel ($177 billion USD), pharmaceuticals ($87 billion USD) and cosmetics ($61 billion USD).
With Muslims being a young, upwardly mobile, growing global population, the demand for halal products is projected to grow steadily in the coming decades.
Halal Trade Shows Around The World
While Halal Expo is the first event of its kind in North America, countries such as Australia, Spain, the United Kingdom, France, the UAE, Taiwan, Japan and Korea have been hosting halal trade shows for years.
The largest and most well established halal trade show in the world is the Malaysia International Halal Showcase (MIHAS). In their 15th annual event in 2018 they had 778 exhibiting companies from 32 countries and the show attracted 21,000 foreign buyers and trade visitors from 72 countries. The event also "resulted in total immediate and negotiated trade value of over RM1.52 billion" ($490 Million CAD).
As part of their preparation and promotion of the Halal Expo Canada event, the Halal Expo Canada team will be exhibiting at MIHAS in April of this year and has recently announced a media partnership with them to promote the halal industries in Canada and Asia.
Citing the importance of such international partnerships in hosting a successful trade show, Deeb's team at THE EXPO HUT works with "local and international partners not only in North America, but in Turkey, Europe, the Middle East and South East Asia."
Halal Expo Canada
Halal Expo Canada 2019 is expected to attract over 250 exhibitors and 3500 attendees from at least 13 countries to the International Centre in Mississauga on October 8-9 this year. Along with exhibitors showcasing their products, the two day event will also host a dozen seminars that "will touch various areas in the healthy living, food, tourism, fashion and financial/investment and how it is evolving to becoming an important element of halal lifestyle trade," says Deeb.

Deeb explains that "This show is designed to attract businesses and investors in the halal lifestyle industry including major retailers, distributors, hotel owners, restaurant owners, hospitality professionals, investors, travel/tourism operators, importers/exporters, bankers, business and trade associations, embassies and heads of commercial trade missions, franchisors/franchisees and so much more."

To get more information about Halal Expo Canada including how to be an exhibitor go to halalexpocanada.com.

Muslim Link is a media partner of Halal Expo Canada.
This article was produced exclusively for Muslim Link and should not be copied without prior permission from the site. For permission, please write to info@muslimlink.ca.