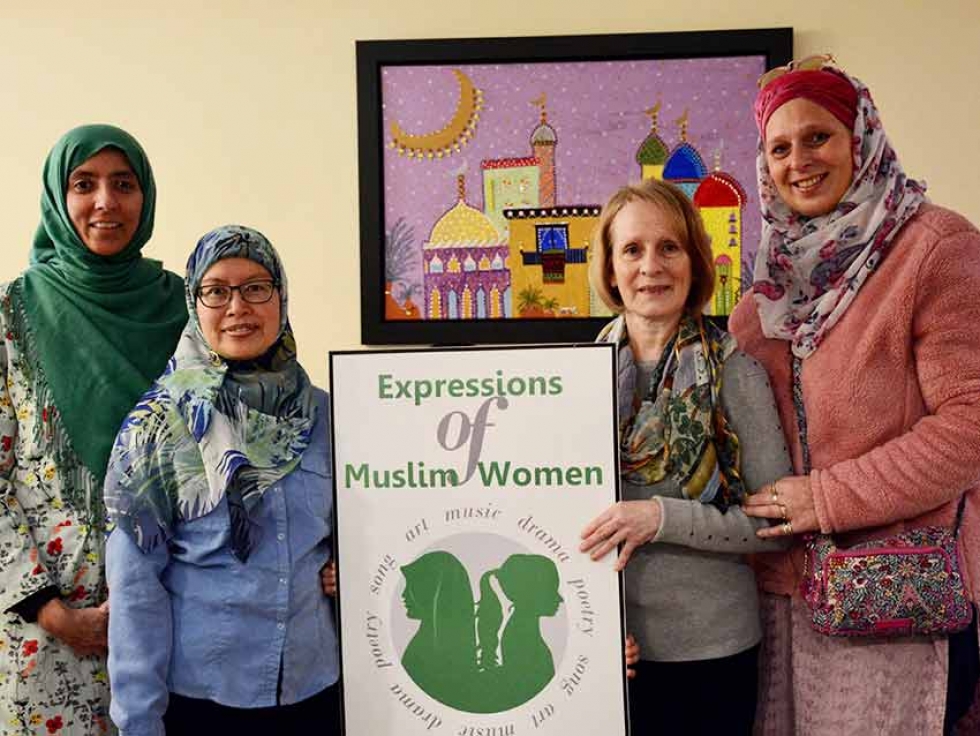 Some members of the Expression of Muslim Women team: Left to right, Rifat Hanif-Riaz, Audrey Saparno, Diane Dupuis, Leïla Sieg. Other members included Ubah Hersi, Stephanie Saunders, and Hadiya al Idrissi.
Expression of Muslim Women
17
Dec


2019
Expressions of Muslim Women Creates Scholarship for Muslim Women Artists at the University of Ottawa
Written by Chelby Daigle
Expression of Muslim Women (EMW), a group that organizes an annual creative arts festival showcasing the artistic and musical talents of Ottawa's Muslim women, has established a scholarship for women who are registered in an undergraduate fine arts (music, theatre or visual arts) program at the University of Ottawa and who are actively involved within the Muslim community.
Muslim Link interviewed members of the EMW team about the scholarship.
How did the idea to create a scholarship for Muslim women studying Fine Arts come about?
Expressions of Muslim Women is dedicated to promoting the artistry of Muslim women in the National Capital Region. With the guidance of our mentor, Khadija Haffajjee, we aimed to put aside a portion of the proceeds from our annual shows towards a scholarship fund. We wanted to start a legacy to support Muslim women artists who wish to pursue higher studies in their field of art. We wanted Muslim woman artists to know they had the support of other Muslim women and in particular of a Muslim organization called Expressions of Muslim Women.
How did EMW go about proposing the scholarship to the University of Ottawa?
We looked at the different academic institutions in Ottawa, and concluded we could start supporting students at the University of Ottawa. We had a contact at the University of Ottawa, who also had regularly attended and supported our EMW events over the years. She answered our questions regarding our options and facilitated the process of setting up the scholarship with the University of Ottawa.
Will fundraising for the scholarship become a regular part of EMW's annual events?
For now, there are enough funds for the next three years. We can revisit our options when the funds need replenishing.
Is there anything else you would like to add?
EMW has endeavoured to encourage and support the work of Muslim women artists in our Muslim and greater communities. Muslim women artists have an important and needed role in the greater Canadian arts communities. The members of Expressions Muslim Women are grateful to be able to support through this scholarship fund, Muslim women artists to pursue and develop their skills, abilities and talent.
Watch a 2017 interview with EMV by studies from the Carleton University School of Journalism below (It may take a few moments for the video to load from YouTube).
This article was produced exclusively for Muslim Link and should not be copied without prior permission from the site. For permission, please write to info@muslimlink.ca.