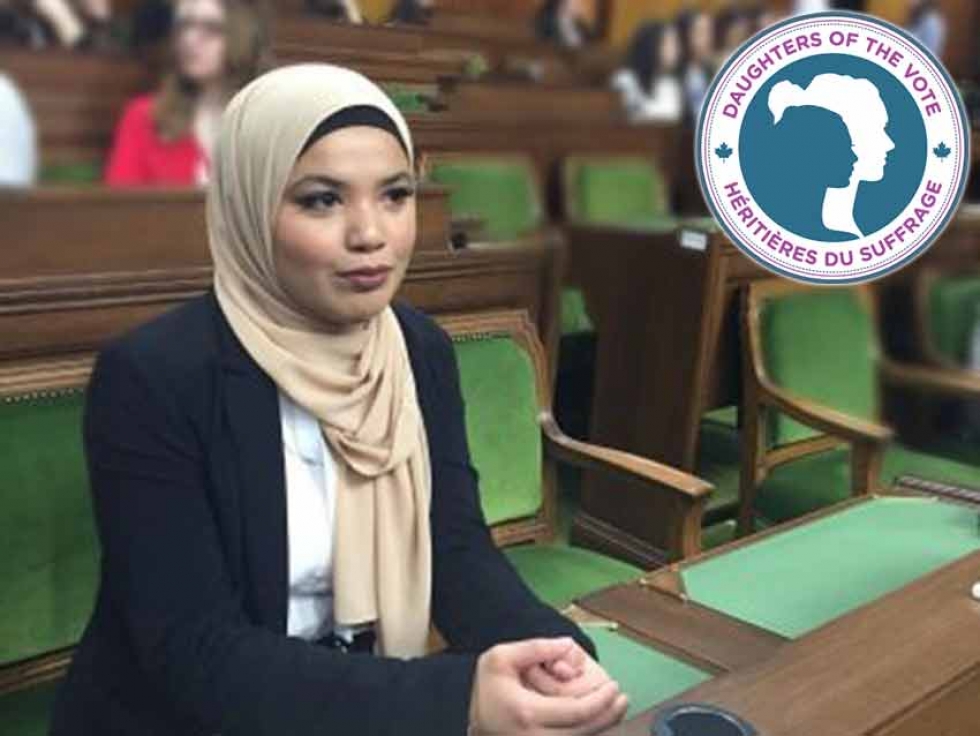 Pakistani Canadian Rubab Qureshi represented the riding of Edmonton Mill Woods, Alberta at Equal Voice's second Daughters of the Vote gathering in early April 2019
27
Jun


2019
Muslimahs on Parliament Hill: Rubab Qureshi from Edmonton Mill Woods, Alberta
Written by Making Headlines
Pakistani Canadian Rubab Qureshi represented the riding of Edmonton Mill Woods, Alberta at Equal Voice's second Daughters of the Vote gathering in early April 2019, which brought together 338 young women between the ages of 18 and 23, representing each Canadian riding and take their seat in the House of Commons during a historic sitting of the House of Commons. They were addressed by every federal party leader, and engaged with an array of Ministers, critics and advocates.
Daughters of the Vote (DoV) was aimed at encouraging more young women to become involved in Canadian politics, a space where there are still challenges to gender equity.
Muslim Link had the opportunity to interview several of the young Muslim Canadian women who were selected to participate in this historic event, including Rubab.
Tell us about yourself
My name is Rubab Qureshi, and I am a third year student at the University of Alberta doing a degree in Psychology and Women and Gender Studies. My family moved to the U.S.A from Pakistan in 1999, about a year after I was born, and to Canada 3 years later, post 9/11. I first started gaining interest in politics during my last year of high school, which coincided with the 2015 election. I remember this vividly actually, because I remember being forced in class to listen to party leaders' platforms for the first time. That was when I first learned of Stephen Harper's proposed niqab ban in citizenship ceremonies. I remember feeling so instantly attacked, despite not wearing a niqab, because of the explicitly racist and demeaning nature of the policy, and simultaneously realizing that a lot of my peers supported this motion and genuinely did not understand why it was so hurtful to me. I went home, researched some more into the political parties, and approximately a year later started interning for a local member of the Alberta legislature (MLA). I realized then that Muslim women, and women of color, were grossly underrepresented in the political narrative, and that if I wasn't going to take the first steps towards changing that, towards representing my politics and beliefs to the world, and standing up against those trying to tear us down, who would?
As young women involved in politics, what challenges, if any, do you face? Do you feel that the presence of young women is changing politics? If so, how?
To be honest, there's quite a few challenges that we face, but the biggest one for me has been the tendency for politicians to use women to score diversity points, but not actually providing us platforms, or spaces, to voice our concern. The concern toward women's involvement in politics has turned somewhat superficial, where there is an extremely paternalistic attitude towards young women navigating the system. We're either treated as photo ops to earn diversity points, or we're asked to conform to patriarchal standards of how to exist in a political sphere. If we do neither, we're dismissed as too young, too naïve, or too radical, and excluded from any meaningful political spaces. They want us to fill seats, but don't really want to hear our voices, particularly the voices that come from lived-in racial, gendered experiences.
I definitely think the presence of young women is changing politics. I often tell people that women, especially women of color, are going to be the revolution. I've encountered so many phenomenal women in politics currently, who are actively fighting tooth and nail to break the mold that is created for them, who know that nobody wants to listen to them but will scream their ideas as loud as they can anyway, who are bold, brave, and unapologetic in taking stances other politicians cower away from.
Do you feel that there are also shifts in how young women are taking up leadership positions within Muslim community organizations in Canada? Do you feel that the presence of young women in these Muslim organizations is changing how these organizations function? If so, how?
In all honesty, I think the shift in Muslim community organizations has been a bit more gradual than I'm seeing in broader Canadian society and that is definitely something that needs to change. Not to demean the absolutely phenomenal women-run Muslim organizations that I do know of, but I do think it's important to still talk about the systemic exclusion of women from Muslim organizations. The ones that do have young women are evolving in phenomenal ways. I've seen girls starting to get involved in community organizing at younger and younger ages as young Muslim women embody these roles and show the world that you can look like me, a brown hijab wearing woman, and still be powerful.
By attending Daughters of the Vote (DoV), you had an opportunity to meet young women from across Canada. Did any of the realities they shared challenge the assumptions about your fellow Canadians or seek out knowledge about issues you had otherwise not known about your fellow Canadians? Elaborate.
I have this terribly damaging opinion that most Millennial or Gen. Z adults are left-leaning on the spectrum, and that conservatives are far and few in between, and easily recognizable through their overtly racist, ignorant ways. However, I met quite a few women who, after having meaningful conversations with, I never would have guessed were Conservative until politics came up. Even then, it was interesting to see that many of them did not come from places of hostility, or from explicit racism/sexism/homophobia etc. They came from places of genuinely thinking they were doing the right thing for people. I want to reiterate very strongly that I'm not saying this absolves them of being, at the very least, complicit in the violence these ideologies perpetuate. Google is free, listening to the multitudes of women of color, minority sexual/gender identities, is free. Regardless, it made me re-think the ways in which I'm constructing, and thus approaching these people.
By attending DoV you had an opportunity to meet young Muslim women from across Canada. Did any of the realities they shared challenge the assumptions about your fellow Canadians or seek out knowledge about issues you had otherwise not known about your fellow Canadians? Elaborate.
I have always believed that as a Muslim woman, I cannot ever exist outside of politics. I don't get to not be political because my religion is the topic of policy and debate in the House of Commons constantly. I also thought that this was a sentiment shared by most, if not all, young Muslim women. However, I met many Muslim women who became a bit disillusioned after the trip because they had not previously encountered this level of exposure to the policing Muslim women can face. I think this challenged a couple of my assumptions. I had assumed that Islamophobic policies are accurately reported by the media and easily accessible to everyone. I had also assumed that all Muslim women were bombarded by political jargon all the time the way I am, but they aren't and so may not experience their existence as a political identity the way I do.
As was to be expecting with a federal election fast approaching, tensions between political parties were much more apparent during this DoV than back in 2017. One of the greatest challenges our time is how societies are becoming more and polarized. Unfortunately partisan politics plays a role in this polarization as parties focus on attacking one another instead of trying to build consensus for the common good. Do you feel that there is a need for a new culture of how politics is done in Canada in order to keep our democracy healthy and focused on the interests of all Canadians?
Absolutely. Canada is a country built on violent colonization, genocide and slave labour. Its governance was designed by, and for, white men with the specific intention of keeping racialized groups, as well as women, out of the policy-making process so that it could continue to serve the people it was designed by. To keep our democracy healthy and focused, the system needs to be dismantled and re-imagined with the help and representation of all types of racial, gender, and sexual minorities. However, I also think partisan politics are not necessarily becoming more and more polarized in the first place. They have always been this 'polarized'. Social media and the evolution of technology has given many actively silenced voices a platform, and an audience. They are finally being heard. The far right never tolerated our very existence, and I think its high time left-winged political activists stopped playing respectability politics with people whose politics are based on undermining minorities' human rights. So yes, we need a new system that isn't underpinned by violence, but partisan politics should not bear the sole burden for recently rising political tensions.
,
What is they key lesson from your experience at DoV that you will be bringing back into your work with your riding?
A moment I will absolutely never forget was when delegates house walked out during Leader of the Opposition Andrew Scheer's speech. I will never forget the absolute terror I felt, sitting nearly front and center in the Minister's seat, and walking down in front of all the cameras, in front of Andrew Scheer, and making the long walk to the back and out the doors. But one thing I took from that experience: People are going to want to silence me, tell me the acceptable ways to protest, the acceptable ways to exist within spaces that weren't designed for me in the first place. I just hope I never forget to hold my head high, and keep doing what I'm doing, no matter how scared I feel because nobody ever made history in their comfort zone.
This article was produced exclusively for Muslim Link and should not be copied without prior permission from the site. For permission, please write to info@muslimlink.ca.