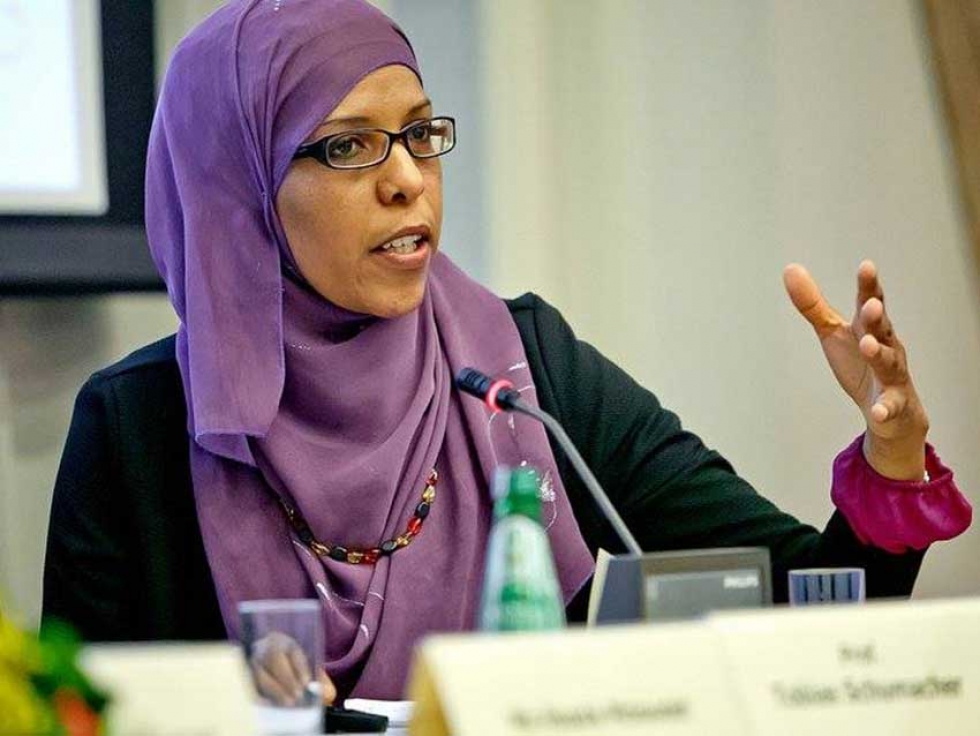 Tunisian journalist Huda Mzioudet is the co-founder of the Black Tunisian women's organization "Anbar".
Huda Mzioudet
12
Jan


2020
Black History Month Event: Tunisia, Libya, Quebec An Evening with Black Tunisian Journalist Huda Mzioudet
Written by Chelby Daigle
In honour of Black History Month, Muslim Link has invited Tunisian journalist Huda Mzioudet, the co-founder of the Black Tunisian women's organization "Anbar", to discuss her experiences as a Black Tunisian growing up in Tunisia, doing investigative journalism in Libya, and now conducting academic research in Quebec.
Huda Mzioudet is a Tunisian journalist and researcher on Tunisian and Libyan affairs. She has contributed to several media outlets including Al Jazeera English, HuffPost Arabi, the BBC, Deutsche Welle, Radio Canada Première Chaîne, among others.
She has carried out research for international think tanks and organizations such as the Brookings Institution, the Carnegie Endowment for International Peace, USIP and Oxfam. She co-authored a book (with Megan Bradley and Ibrahim Fraihat) entitled "Libya's Displacement Crisis: Uprooted by Revolution and Civil War" (Georgetown University Press).
Mzioudet is a civil society activist on issues related to minorities in North Africa and also earned her MA in Cultural Studies from the University of Manouba in Tunis (Tunisia) in 2005. Her particular interests are emerging identities, civil society and humanitarian issues in conflict contexts.
Muslim Link interviewed Huda in advance of her Black History Month talk on Thursday, February 13 in Ottawa, about the perspective her identity as a Black Tunisian brings to her journalism and research.
What does it mean to identify as a Black Tunisian and why do you claim that identity?
I often see myself as an oxymoron: Black and Tunisian, two irreconcilable identities that often made me the subject of heavy scrutiny, curiosity and exoticization from many people including in Tunisia itself. I came to embrace and reclaim my racial identity as part of me after the revolution in late 2010-early 2011 where I took part in a social movement where the Black Tunisians came out from the dark, out of invisibility and into the public space as activists for equality.
Being Black in Tunisia has never been easy and still is not. It is a constant struggle for recognition of such a complex identity. To be Black and Tunisian is to belong to the continent of Africa, yet you are not part of it. Tunisia is like an island that has been alienated from its Africanness, looking down on it, while looking up to its Mediterranean-ness.
You were recently involved in launching an organization for Black Tunisian women. Tell us about this.
We launched it on January 23 of this year. On January 23, Tunisia commemorates the day it abolished slavery in 1846, to become a pioneer in the Arab and Islamic world in doing away with this barbaric practice. The trans-Saharan slave trade as well as the Barbary corsairs' raids on European countries brought about 100,000 black African and white European slaves to the Ottoman-ruled Tunisian Kingdom in the 19th century. Ahmed Bey, the Tunisian ruler at the time, was behind such a "bold" move when France and the US had not even abolished the Trans-Atlantic slave trade. 
We established the group to serve as a platform to exchange and share our experience of being at the intersection of many complex identities in Tunisia: being black, female, often working class, and while abroad conflated with any other identity except for "our Tunisianness". To be able to reconcile with our history, it is important to know where we are from and to take the dust off the repressed and taboo narratives of slavery and its aftermath. We hope to create a space that strives to right the historical, political and social wrongs about black women's role and place in post-independence Tunisian public space. We are calling group "Anbar" (Arabic for Amber) for now, although we are still reaching consensus on the name.
How did your own experience as a Black Tunisian inform your investigative journalism while in Libya?
It was a journey of self-discovery, of going back to the roots, similar to when many African Americans went back to Africa (specifically Ghana) in 2019 as part of the project the Year of Return.
The Black Tunisian-Libyan continuum and the current situation of African migrants in Libya and their attempts to reach Europe is similar to that of many Black Tunisians who originally left Libya as indentured servants to settle in the more prosperous country of Tunisia in the 20th century. My obsession with researching Libya is a mirror to my own obsession about researching my identity as a Black person and a Tunisian and Libya offered a big part of the answer to my questions of identity. Working as a journalist and a researcher has been very illuminating when it comes to better understanding racial identity in North Africa in general, with the heavy past of slavery, colonialism, Independence and post-Independence dictatorships.
Being a Black Tunisian journalist in Libya helped to inform my understanding of the complex relationship between "white" Arabs and "Black" Sub-Saharan African migrants. There is a strong connection between post-slavery North African societies with Libya that can help to explain the hostility towards migrants from south of the Sahara desert from Libyans.
How has your experience as a Black Tunisian informed your perspective on Muslim organizing against Islamophobia in Quebec?
Living in Quebec is some sort of déjà-vu because both Tunisia and Québec bear some uncanny likenesses (notwithstanding the intimate French language connection as part of La Francophonie, the tie between all former French colonies). For example, the controversial headscarf or hijab ban in public institutions also occurred in Tunisia so you can see that there is a shared legacy impacting both nations inherited from their colonial experience with France. The hijab ban in Tunisia was lifted in 2011 (after 30 years of dictatorship targeting women who wanted to choose to wear it).
Also, the issue of denial within Québec society of the presence of Islamophobia and anti-Black racism on the one hand and the denial of anti-black racism within Arab nations on the other hand creates this double-edged sword that Muslims and Black peoples and Black Muslims find themselves faced with in both nations. Approaches to challenging this denial, dismantling it and curing it are similar within the Muslim Quebecois communities and Black Tunisian communities.
Why are you looking forward to coming to Ottawa to speak during Black History Month about the experience of being Black Tunisian?
Black History Month is a symbolic month for me as a diasporic Black person living in North America. I lived in the USA between 2007 and 2008, and now I'm living in Montreal, Quebec. I am eager to share my experience as a Black Tunisian while in Ottawa and Ontario at large in order to shed light on the often under-reported, unknown history of Black people in Tunisia.
To register to attend Muslim Link's Black History Month event with Huda Mzioudet on Thursday, February 13, click here.
This article was produced exclusively for Muslim Link and should not be copied without prior permission from the site. For permission, please write to info@muslimlink.ca.