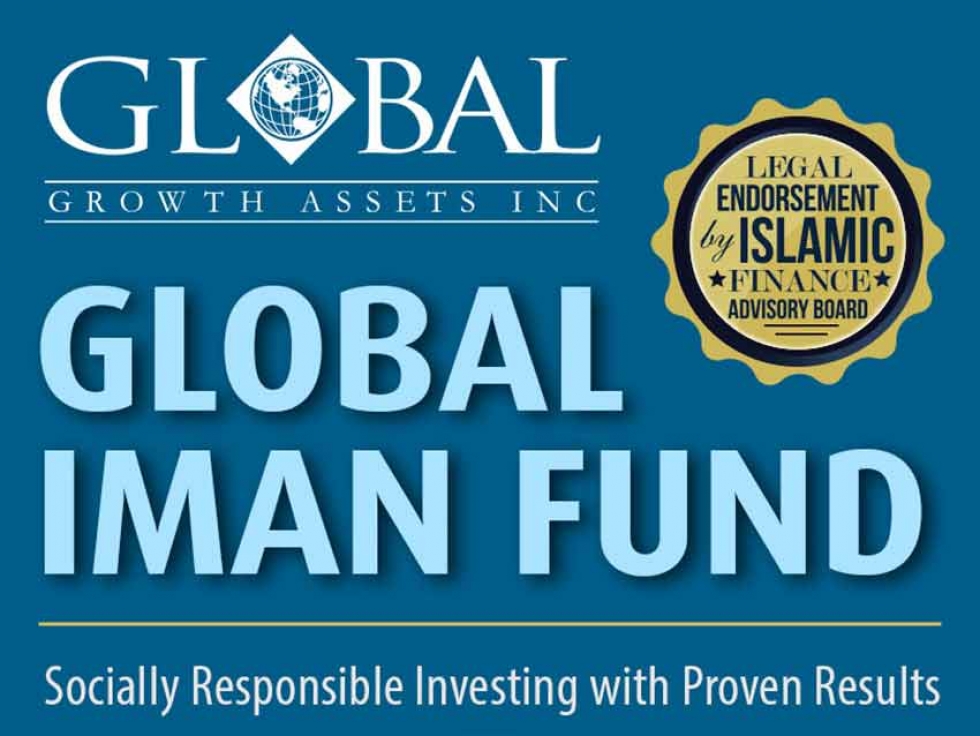 06
Feb


2020
Global Iman Fund: Canada's Shariah Compliant Equity Mutual Fund
Written by Tasneem Mabrouk
When it comes to halal investments, investors are not only looking for Shariah compliance, but they also want high quality investments that they can confidently put their money in. 
The good news for Muslim Canadians is that Global Growth Assets Inc. has Canada's only Shariah compliant equity mutual fund, the *Global Iman Fund, which boasts a solid 10-year track record showing consistent growth.
Why invest in a mutual fund?
When it comes to investing, two main obstacles that people face are not having enough money to invest and not knowing what to invest in. Professional financial advisors can offer customized, personal guidance to manage your financial affairs, but they often require a minimum investment in the hundreds of thousands of dollars. This is necessary to ensure that you have a diverse portfolio of many different investments, to reduce your risk.
Mutual funds solve these two major issues by pooling funds from many investors and having them managed by a professional. This way, you can start investing with just a few hundred dollars and rest assured that your money is being managed by a financial professional. Mutual fund managers will take the pool of funds and invest them in a range of investments to optimize returns and mitigate risks, saving individuals the time and effort of selecting investments on their own. 
Excellent Track Record and High Returns
As of January 31, 2020, **Fundata ranks Global Iman Fund's Series A option in the 1st quartile in returns within the Global Equity fund category over 1, 3, 5 and 10 year periods.  Fundata has also awarded the fund its coveted FundGrade "A" rating, which places the Global Iman Fund in the top 10% of all global equity funds in Canada in risk-adjusted performance.  Series A has a net annualized rate of return of 10.43% since its inception on March 6, 2009. This means that if $10,000 was invested on March 6, 2009, it would be worth $29,494 as of January 31, 2020. 
Series A refers to one of the two investment options available to investors in the Global Iman Fund. The other is the Series F, which is for fee-based accounts.  According to Fundata, it also places in the 1st quartile in returns within the Global Equity fund category over 1, 3 and 5 year periods, has an FundGrade rating of "A", and a net annualized rate of return of 13.09% since its inception on October 27, 2010. In other words, $10,000 invested on October 27, 2010, would be worth $31,268 as of January 31, 2020. 
These rankings are indicative of excellent performance — users have high returns and a lower chance of losing money, as volatility and risk are not high. 
Actively managed by world-class portfolio manager
Global Iman Fund is actively managed by the Swiss multinational financial services company, UBS, with an aim to "provide investors with long-term growth by investing primarily in a diversified portfolio of global investments that are in accordance with Islamic investment principles."  
UBS teams are made up of members with diverse philosophies to give clients access to the best expertise and the most insightful decisions. Fund managers buy stocks from companies that they believe will increase in value in the long run. They also maintain diversified investment portfolios to optimize performance. Some of the Global Iman Fund's largest investments are in Microsoft, Apple, Johnson & Johnson, and Nestle. 
Shariah compliance and social responsibility
To ensure Shariah compliance, the fund avoids investing in certain industries, such as alcohol-related products, weapons or defense industries, or gambling industries. They also do not invest in interest generating businesses, such as banks. Fund managers select investments that fulfill Shariah requirements by only investing in equity securities of companies listed on the Dow Jones Islamic Market Titans 100 Index (IMXL) or other Shariah compliant investments. 
Investing in equity securities involves taking partial ownership by buying a stock in a company. If that share increases in value, you can sell it for a profit. In contrast, investing in debt involves lending money on interest. Many conventional investments have a component of debt as well as equity because investing in debt (i.e. making interest-based loans) comes with a guaranteed return on investment and is considered less risky. However, since interest is forbidden in Islam, Global Iman Fund invests only in equity, or shares of companies.
Not every equity security can be considered a halal investment though.  The IMXL filters companies using two screens. The first is a qualitative screen, which ensures that the nature of the company is halal. Since many companies do business in more than one area, some of which are halal and some of which are not, scholars have ruled that as long as a company derives no more than 5% of its profits from non-halal sources, it passes the qualitative screen of Shariah compliance. 
The second is a quantitative screen. Rather than the nature of the company's business, this screen looks at the company's finances. A company that does business in a halal field but is completely funded by interest-bearing debt would not be a halal investment. Again, since it's nearly impossible today to find a company that runs without interest-based financing, scholars have set limits to the amount of interest-based debt a company can hold to be considered Shariah compliant. For example, one of these rules is that the company's debt to equity ratio can't be more than 33%.
Canadian Muslims can have the peace of mind that with an investment in the Global Iman Fund, they are acting in accordance with the teachings of their faith. The fund has been endorsed by a Fatwa from the Islamic Finance Advisory Board as being Shariah compliant ("Advisory Board"). Audits by the Advisory Board find that the Fund invests in companies according to its objectives of Shariah compliance. 
In addition to being Shariah compliant, Global Iman Fund is a solid complement to a socially responsible portfolio. According to ***MSCI ESG Research LLC (MSCI ESG), the fund's ESG score places it in the top 15% amongst other global funds. The ESG quality score measures the ability of key holdings to manage risks as well as opportunities arising from environmental, social and governance factors.
*******
*Global Iman Fund
The Global Iman Fund offers a highly needed service to the community of Canadian Muslims, allowing them to invest in strong companies guided by the expertise of professional fund managers, all without compromising Shariah regulations. Flexibility and ease of access make the fund the perfect option for anyone looking to grow their money or save for the future. Further information regarding the Fatwa endorsement of the Global Iman Fund can be found here. 
Commissions, trailing commissions, management fees and expenses all may be associated with mutual fund investments. Please read the prospectus before investing. The indicated rates of return are the historical annual compounded total returns for the specified periods including changes in share value and reinvestment of all distributions and do not take into account sales, redemption, distribution or optional charges or income taxes payable by any security holder that would have reduced returns. Mutual funds are not guaranteed, their values change frequently and past performance may not be repeated. Current holdings and strategies are subject to change in accordance with the terms of the fund's prospectus. The rate of return examples provided are used only to illustrate the effects of the compound growth rate and are not intended to reflect future values of the Global Iman Fund or returns on investment the Global Iman Fund. Performance data for 1, 3, 5 and 10-year returns (and inception where applicable) can be found here.
**Fundata
The Global Iman Fund is rated under the Global Equity category by Fundata. The following are the number of similar funds rated within standard reporting periods:1-year 1369, 3-year 1107, 5-year 958, 10-year 598. Data for rating is provided for the time period between (06/03/2009) and (31/01/2020). These ratings provided in this document are subject to change every month. Further information on which Fundata's rating is based, and an explanation of their letter ranking system, can be found here. 
***MSCI ESG
The Global Iman Fund is rated by MSCI ESG Research LLC on a monthly basis. MSCI ESG Ratings are leveraged over 7,500 companies (13,000 total issuers including subsidiaries) and more than 600,000 equity and fixed income securities globally to create ESG scores and metrics for approximately 32,000 multi-asset class Mutual Funds and ETFs globally. These ratings provided in this document are subject to change. Further information on which MCSI's rating is based can be found here.
This article was produced exclusively for Muslim Link and should not be copied without prior permission from the site. For permission, please write to info@muslimlink.ca.
This article was produced exclusively for Muslim Link as part of a paid advertising package. For more information on how to advertise through Muslim Link and support the running of Canada's Online Hub go here.