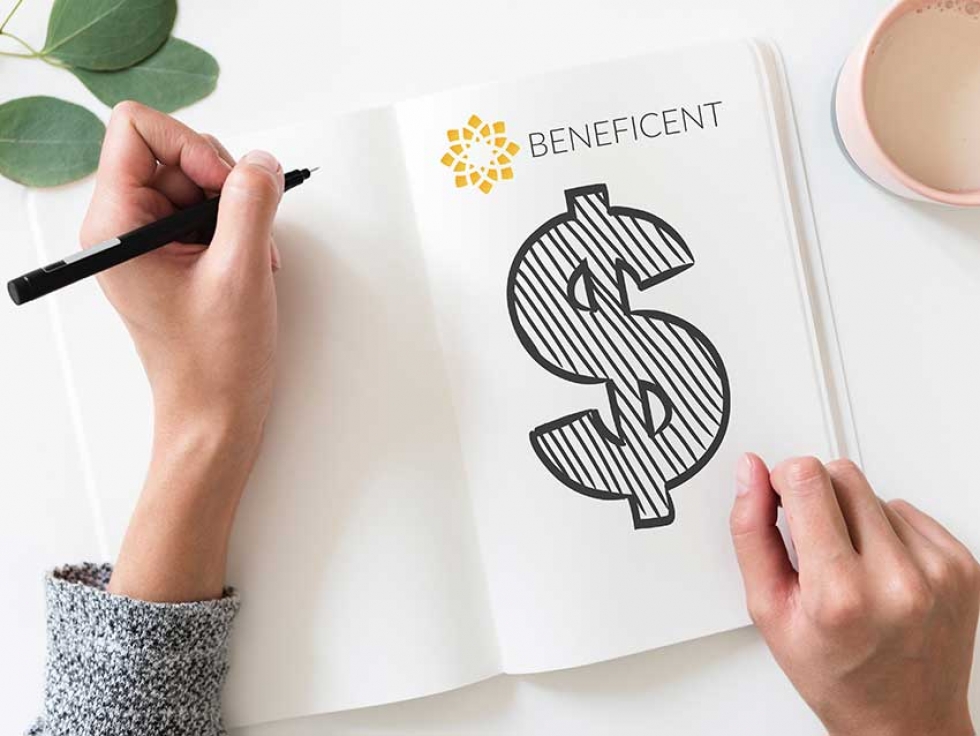 Beneficent provides interest-free debt relief for individuals with high-interest debt
07
Jun


2018
Beneficent: Empowerment Through Interest-Free Debt Relief
Written by Sawitri Mardyani
Despite the Islamic prohibition on interest or riba, many, if not most Muslims have credit cards.  While it's possible to use a credit card and never pay interest by paying off the full credit card balance each month, it doesn't always work out this way.  Any number of situations such as emergencies, unexpected expenses, unstable income or loss of employment can lead people to carry a balance on their card and accrue interest on their debt.  From there, getting out of debt can become a very difficult challenge.
It's such a commonplace issue that it's rarely questioned and simply accepted as just the way things are.  
Not everyone, however, is willing to acquiesce to the status quo.  In 2016, recent graduates of the University of Waterloo founded Beneficent, a non-profit that provides interest-free loans to help individuals get out of high-interest debt.  Its greater mission is to institutionalize the principle of lending with compassion and implement an interest-free, halal alternative to the current lending system that often exploits those in need.
As one of the co-founders, Hussain Sharif says, "it's one thing to say that Islam prohibits riba because riba is bad.  It's another thing to give life to that idea.  So what does it really mean when you give out loans without interest?  It's one thing to just say it. It's another to do it."
The problem of credit card debt
According to the Canadian Bankers Association, in 2016, 89% of Canadian adults had at least one credit card.  Aside from being an easy way to borrow money, credit cards are convenient, widely accepted and even required for some transactions such as booking a hotel or renting a car.
The relatively low monthly payments required with credit card debts can make them a seemingly attractive borrowing option for those unable to make ends meet.  The minimum payment is usually a small fraction of the outstanding balance. Unfortunately, paying only the minimum balance is a sure way of staying in debt for a long time and paying a lot of interest in the process.  
For example, the average Canadian carries a balance of over $4,000 on their credit card.  On a typical "basic" credit card with a 19.99% annual interest rate, where the minimum payment is 3% of the balance, the minimum payment in the first month would be $120.  In the second month, interest starts to accrue. So, although the balance has now gone down to $3,880, the minimum payment has gone up to over $180, of which almost $65 is interest.
In the meantime, especially for people who are already in a precarious financial situation, financing this debt takes away from the money they need for other expenses.  This makes them even more vulnerable to falling deeper into debt should an emergency or unexpected expense come up in the future.
One of Beneficent's co-founders, Thamjeeth Abdul Gaffoor likens it to trying to bail water from a sinking ship, "It's not just the principal that you have to give back but it's the interest on top of that and often people can't find a way to plug that hole.  So they're consistently in debt they're unable to get out.
What we do is we're just saying, listen, we'll help you get back on your feet. We'll help you plug that hole so you can repay yourself out of debt."
The beginning of Beneficent
When they were students at the University of Waterloo, Thamjeeth and Hussain had been part of a group that discussed the possibility of setting up an organization to provide interest-free student loans.  However, as student loans can be upwards of $25,000 each, the amount of money that had to be raised to fund such a program was daunting. So the idea languished.
In 2015, they saw a friend in his last year of university who was in need of money to cover his credit card debt.  They reached out to mutual friends asking if they could pitch in to help. By setting up a crowdfunding campaign, they were soon were able to raise enough money to cover the $4,400 debt.  
"When we did that we realized two things essentially.  One is that people are willing to help. And the second thing we realized is that, while talking to our mutual group of friends, we found out that there were one or two who were themselves in need but no one knew," explains Hussain.
Motivated by individuals' willingness to help and the apparent need for this kind of service, Hussain and Thamjeeth got together with their friend Nahian Alam and founded Beneficent.  In doing so, they were able to draw on the effort made by the interest-free student loan group they were previously part of.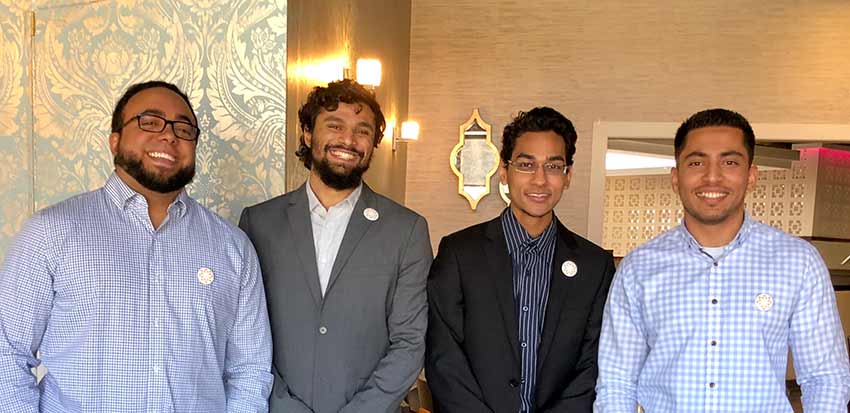 Beneficent's directors, from left to right: Executive Director Ahmed Rizk, Co-founders Thamjeeth Abdul Gaffoor, Nahian Alam, and Hussain Sharif.
They also took inspiration from Jewish Free Loan Toronto, which provides interest-free loans to the Jewish community in the GTA and throughout Ontario. The history of Jewish Free Loan Toronto goes back to the early 1900s. Today, they have over $2.6 million in interest free loans out in the community.
Like any new non-profit organization, Beneficent works on a shoestring budget.  They've taken this a step further though, directing 100% of donations towards loans for borrowers in need.  Not only are they completely run by volunteers; operating expenses, including software tools, their accounting system, the website and server expenses are also covered by the directors.
Providing relief from crippling debt
Currently, Beneficent focuses on giving loans to individuals with high-interest debt, such as credit cards.  Although there have been requests to cover student loans, these loans involve much larger amounts of money with significantly lower interest rates.  By focusing on high-interest debt, Beneficent spreads their funds to help more people and gives relief to individuals subjected to the highest interest rates.  Over time, as they become more known in the community and collect more funds, they hope to be able to help people with other kinds of debt as well.
Regarding the people who have received interest-free loans so far, Thamjeeth observes, "There's no demographic trend.  We've had students, we've had young professionals, we've had married people with kids. It's definitely a very wide spread.  You find people in all sorts of situations. Some of them are very dire."
One of their clients was a single mother who they were able to direct to other community resources such as Nisa Homes and the National Zakat Foundation.  "We don't want to just help them with money specifically but also try to improve their overall situation as much as possible," he says.
Another client needed to borrow $1,000 for just one week.  "He needed $1,000 and he said he'd pay us back within a week and he did," Thamjeeth recalls. "We were surprised.  Imagine, you just need $1,000 for that specific week. And he wasn't able to get that anywhere else without significant fees."
People in need of such short term loans are particularly prone to being subjected to exorbitantly high interest rates.  Often, because of their employment or credit situation, this is the only borrowing option they have. In low income neighbourhoods, institutions offering payday loans are a common sight.  
Unlike credit card debts, which are paid in instalments over time, the full amount of the payday loan plus the fee must be returned at once, typically within two weeks.  The current maximum fee on payday loans in Ontario is $15 on every $100. This is equivalent to an annual interest rate of 391%.
More often than not, borrowers aren't able to pay the back the loan and the fee in time, so they take out another payday loan to pay off the first one.  As their debts mount, so do their worries and anxieties; the crippling effects of which only make paying off these loans even more difficult.
Beyond interest-free loans
At Beneficent, Hussain explains, "What we're trying to do for the borrower is we're really trying to provide an alternative.  A lot of financial institutions are out there to exploit people's need. And especially people who live paycheque to paycheque and need that extra little bit of money.  What we're really trying to do is bring to life the Islamic principle of 'do not exploit people's needs' and lend money with compassion."
Beneficent's interest-free loans also benefit individuals in need who would otherwise not seek help from a charity. "There are many people who are uncomfortable disclosing their situation.  These people may not be happy or willing to take handouts, free donations. There are many people who fit the criteria of zakat and sadaqah.  These people are people who, if given the opportunity, can help themselves out of that situation simply by getting a loan and working to pay that back without interest," Thamjeeth adds.
When borrowers come to Beneficent, they are paired with a loan officer who assesses their case and negotiates the terms of their interest-free loan.  Loans over $1000 require a guarantor and the maximum term for loans is one year. The quicker loans are returned the sooner they can be lent out again to help the next borrower.
The loan officer also provides coaching to help borrowers improve their money management skills.  "People are not as financially literate as they really should be," says Thamjeeth, "Such basic things like budgeting, saving, how to even use your credit card properly, what a credit check is, what affects your credit rating… these simple things people don't know."  
Hussain adds, "even in our high school system we're not really taught how to manage our money.  It's not something that you find easily available. So people just assume that you're going to learn it somehow.  Where are they going to learn it? No one knows. But most people learn by making mistakes."
"Our goal is to teach them these concepts and get their lives in order.  We don't want to just help people with the problem they're dealing with. We want to prevent people from ever having to be in that situation again.  Without assigning blame to that person. Sometimes you never know what happened. But if you can prevent it then you should," Thamjeeth explains.
Crowdfunding for interest-free loans
So far, through donors and borrowers who heard of them via word-of-mouth, Beneficent has been able to issue $23,112 in loans to 11 borrowers.  With all their funds lent out, they are not able to give out additional loans at this time but they are actively working to replenish the funds.  Recently, they launched a crowdfunding campaign to raise $10,000, all which will go directly towards giving more loans to relieve people from high interest-debt.
Beneficent aims to become a registered Canadian charity by the end of this year.  In the meantime, they're looking to the community to generously support their efforts to establish a halal, interest-free alternative to current lending practices and empower people to get out of crippling debt and back up onto their feet again.
To support Beneficent in their crowdfunding campaign, go to launchgood.com/freeloans.
This is Part 2 of a series on Riba in Islam.  Part 1 discussed the prohibition on interest and the negative effects that interest-based lending have on people, societies and the environment.  Part 3 explains how Ijara CDC structures halal mortgages allowing home buyers to avoid interest-based transactions. Part 4 profiles Iana Financial, an organization reviving the tradition of the benevolent loan. Upcoming parts of this series will discuss other practical implications of riba as well as interest-free alternatives.
To make sure you don't miss Part 5, subscribe to the Muslim Link Snapshot and get articles sent to your inbox every month.

This article was produced exclusively for Muslim Link and should not be copied without prior permission from the site. For permission, please write to info@muslimlink.ca.