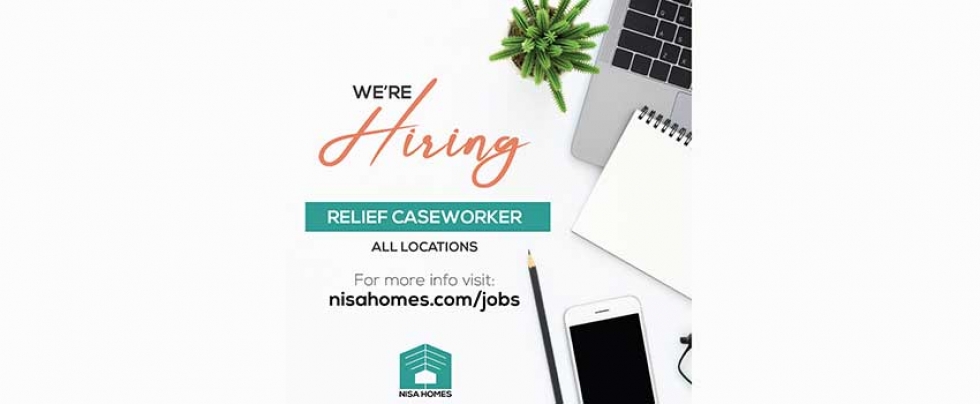 24
Apr


2020
Nisa Homes On-Call Relief Caseworkers
Written by Nisa Homes
Amid the Covid-19 crisis, we are seeing an increase in demand for our services and support, however with our limited capacity and to ensure we are providing the best form of assistance possible, we are hiring additional relief workers to assist as the need arises.
Job Title: On-Call Relief Caseworker
Location 6 positions available at Nisa Homes across Canada: Mississauga, Scarborough, Windsor, Edmonton, Calgary, Surrey
Job Status: On-call
Under the supervision of the House Manager, Relief Caseworkers assist with the smooth operations of Nisa Homes, especially during these challenging times. Relief caseworkers are to be called on to assist with processing and administering all aspects of casework including Intake, Move In, Needs Assessment, Case Planning and Move Out.
KEY RESPONSIBLITIES
CASEWORK MANAGEMENT
1. Intake
Screen potential residents for intake suitability when required by House Manager
Participate in the selection and admission of residents to appropriate program
Review client background information, interview clients to obtain case history and prepare intake reports
Conduct a thorough analysis of documents and application form to ensure completion
2. Move In
Provide pick up service for client move-in, if required
Prepare and assign bed room, cupboard, linens and towels to client(s)
Provide a Nisa Homes number for client(s)
Provide a welcome pack for the client(s)
Conduct initial meeting with client to review and sign-off house rules, liability, consent and confidentiality agreements
Conduct house tour and introduce client to other house guests and staff
3. Needs Assessment
Assess client's immediate needs within 2-3 days of client move-in
Inform client(s) of various options and resources that are available to meet their needs
Guide client(s) in developing and implementing a plan of action for their 3 month stay at the home
Provide necessary support and assistance for the client to ensure action plan is achieved
4. Move Out
Encourage and support clients to secure sustainable housing within the community
Assist client in accessing various community or governmental programs regarding housing, welfare, childcare, child benefits, disability, English Language training, etc.
CLIENT SUPPORT AND DEVELOPMENT
Meet with client(s) weekly to assess their progress, give emotional support and encouragement, help with goal setting and problem solving supports
Advocate for and represent the client's needs in house meetings and with other community/governmental agencies
Encourage clients to abide by house rules through positive reinforcement and role modeling.
Monitor the clients' adherence to the house rules and reports all violations immediately to the House Manager.
Assign and enforce restriction and/or consequences for rule violations.
Regularly conduct client bed checks.
Maintain a daily written log regarding house and client activity
Facilitate resolution of conflicts between client(s) in the home through positive communication and supportive listening
Monitor and ensure the safety and comfort of client(s) and the security of the home.
REPORTING
Summarize/organize information for shura in event that a unique case has arisen for current residents for decision making
Provide weekly update in staff meeting regarding client progress.
Maintain case notes, resident records, documents, forms and statistical information
Maintain an updated track of expenditures, dispersal of financial assistance to residents, inventory of groceries and household items, inventory of donations, etc.
AD HOC
Assist House Manager in ensuring housekeeping services such as laundry, housecleaning and maintaining supplies are completed
Additional responsibilities and tasks as needed
COMPETENCIES
Communication Skills & Active Listening
Fostering Independence in Others
Resilience
Positive Attitude
Reliability
Detail Oriented
Professional Demeanor
Interpersonal Relationships and Respect
Building Trust
Planning and Organizational Skills
Emotional Intelligence
Conflict Management Skills
Social Work Knowledge and Skills
QUALIFICATIONS AND EXPERIENCES
Degree or Diploma in a related human/social service field such as Social Work or Child and Youth Care Work and one (1) year recent related experience. Or an equivalent
combination of relevant training, education and experience.
Knowledge of relevant policies, procedures and legislation
Current First Aid/CPR Certificate required
Clear Criminal and Vulnerable Sector Police Clearance
Access to a reliable vehicle an asset
Ability to work individually and as a team member
Be aware of personal triggers and be willing to work on personal wellness
Awareness of stresses of position and follow an action plan for self-care
Respect clients right to their own values, beliefs, culture and choice
Use empathy and a client centered approach when working with the women and children
Understanding of the cycle of abuse, the misuse and abuse of power and control
Good interpersonal skills and the ability to work with people from different cultural backgrounds
Knowledge of social issues which effect women
Understand and respect the importance of confidentiality
Must be willing to work shifts
Willing to attend training when required
Knowledge of community resources, social services policies and practices, as well as criminal and family justice systems
Computer literacy, including working skills of Excel and e-mail
To apply, please forward your resume and cover letter to This email address is being protected from spambots. You need JavaScript enabled to view it..
Please include the exact job title in the subject line of your e-mail.
Nisa Homes is an equal opportunity employer and is committed to complying with both the Ontario Human Rights Code and the AODA.